If you're a die-hard Oakland Raiders fan, you're not going to want to miss a meeting Thursday night to keep the silver and black in town.
The National Football League is hosting a public forum to allow community members to express their feelings about keeping the Raiders in Oakland.
The league, and commissioner Roger Goodell's executive team, have already held such meetings – sometimes boisterous ones – in San Diego and St. Louis.
That's because the Raiders, the San Diego Chargers and the St. Louis Rams are all considering moves to the Los Angeles market, which the NFL expects will be home to one or two of the teams by next season. The league is running the meetings, not the teams in question. The Chargers and Raiders are jointly proposing a stadium in Carson, the Rams a competing concept in Inglewood.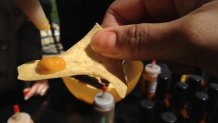 On Wednesday night, an estimated 450 San Diego Chargers fans voiced their impassioned feelings to keep their team in Southern California. Fans kept repeating how much they loved the Chargers and wanted to keep them there.
The same is expected in Oakland, where Raiders fans are known for their vocal support of the team. In Oakland, the trouble is that the Raiders desperately want a new stadium, but financing one – without using taxpayer funds – is at issue. For now, the Raiders share an aging stadium, O.co Coliseum, with the city's baseball team, the Athletics.
The meeting will be held from 7 p.m. to 10 p.m. at the Paramount Theater at 2025 Broadway.
Attendees must preregister and can do so at www.nfl.com/oakhearing. All written comments may be submitted to oak.hearing@nfl.com through Nov. 13, 2015. The hearing will also be streamed live on NFL.com/publichearings.


NBC San Diego's Derek Togerson contributed to this report.