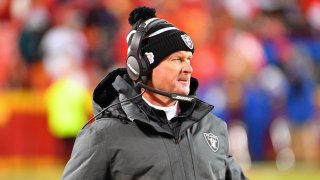 Through Week 11, the Raiders looked like the biggest surprise in the NFL. The Silver and Black had won three straight and an AFC West title was well in their reach.
Three weeks later, those hopes and dreams could come to a crashing halt in Week 14.
After an embarrassing 34-3 loss to the Jets and being blown out, 40-9, against the Chiefs, the Raiders' chances of winning their first division title since 2002 now are slim to none. If the Raiders (6-6) lose to the Titans (7-5), and the Chiefs (8-4) beat the Patriots (10-2), Kansas City would clinch its fourth straight AFC West title.
Oakland's blowout loss on Sunday pushed them back to the No. 8 seed in the AFC, behind Tennessee. But a win this upcoming Sunday over the Titans obviously would get them right back in the playoff hunt.
Another obstacle could be in the Raiders' way this week, too. The Bills (9-3), who currently are the No. 5 seed in the AFC, could clinch a playoff berth with a win, plus a Raiders loss or tie, Texans loss and Colts loss or tie.
Jon Gruden's squad will be rooting for the Texans (8-4) to take down the Steelers (7-5), too. Pittsburgh owns the sixth and final spot in the playoffs going into this week.
[RELATED: Where Raiders stand in AFC after loss vs. Chiefs]
Following the Raiders' matchup with the Titans, their schedule becomes much easier. They finish the season with games against the Jaguars (4-8), Chargers (4-8) and Broncos (4-8).
While they must take care of business first, the Raiders have to forget about the Tuck Rule Game for one Sunday and root for the Patriots to get past Patrick Mahomes and the Chiefs to keep Oakland's AFC West hopes alive.
Copyright C