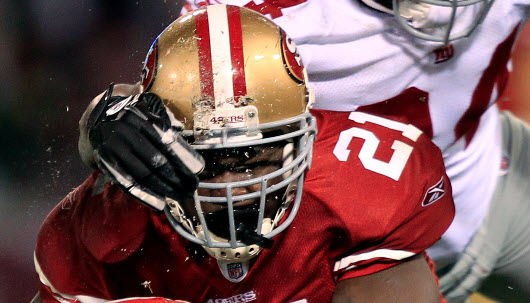 A year ago, after San Francisco 49ers running back Frank Gore got off to a slow start in the 2011 season, a Bay Area blogger posted a story listing the reasons why Gore "is done as a running back."
The reasons: At 28, he was said to be old and beyond his peak. Plus, he was injury prone and due for a letdown after signing a contract extension.
Of course, Gore went on to have one of his best seasons, rushing for 1,211 yards and eight touchdowns as the 49ers went 13-3 and won the NFC West.
Now, after two games, Gore is again a force, ranking No. 4 in the NFL with 201 yards rushing and the 49ers running game again looks formidable, ranking No. 3 in the league with 167.0 rushing yards per game.
Against the Detroit Lions Sunday, Gore churned for 89 yards on 17 carries and looked anything but old, showing both power and speed.
Right guard Alex Boone told Cam Inman of the Bay Area News Group that he loves blocking for Gore and seeing what Gore can do with the holes.
"He did a great job of finding the crease and hitting the holes," said Boone. "He's an elusive player and I love it."
Now, paired with second-year pro Kendall Hunter, Gore is part of a 1-2 running back punch that could be even better when Brandon Jacobs and LaMichael James are ready to play.
Head coach Jim Harbaugh says Hunter and Gore make each other better.
"Both are tremendous backs, and Kendall has raised his game," Harbaugh told reporters after the season-opening victory over the Packers, when Gore rushed for 112 yards and Hunter added 41. "Frank is one of the best there is and he's made Kendall better. Kendall brings to the table that kind of spirit, youth and desire to get better all the time. I don't think I'm exaggerating by saying that Frank has benefited from that as well."
This year, the 49ers have beefed up their running game at the point of attack, adding extra offensive and defensive linemen to block for Gore and Hunter on certain running downs. Harbaugh's commitment to make the running game work has turned the 49ers into one of the best running teams in the NFL.
"We're pretty far ahead of where we were last year, and he helps me a lot," Gore said of Hunter. "He has a different style, a change of pace, and it's been great for us. We're always ready to go out there."
And, at 29, Gore seems to be having too much fun to slow down.