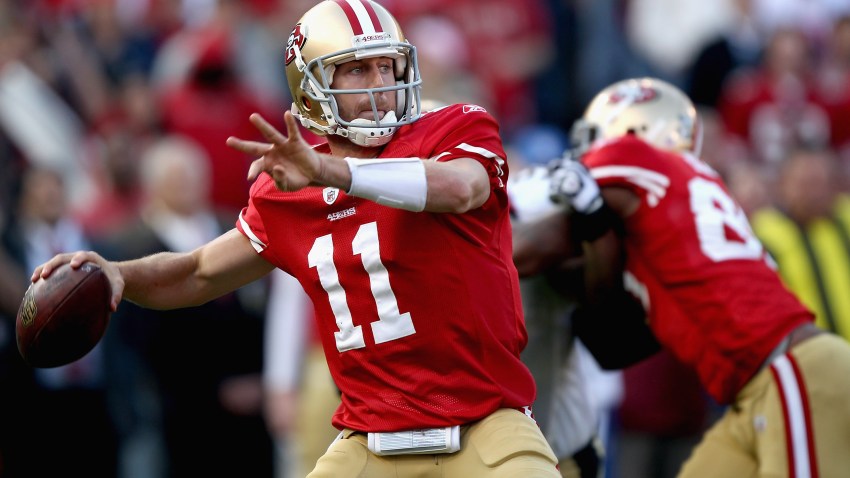 All things considered, the San Francisco 49ers offense at the start of the 2011 season was like a Volkswagen Beetle in the Indianapolis 500.
It worked and moved forward, but not at the pace of the others in the race.
With the NFL lockout keeping players from workouts and a new coaching staff in charge – implementing a new West Coast offense – quarterback Alex Smith and the rest of the unit opened 2011 still learning the ropes while offensive coordinator Greg Roman kept things simple to ensure execution.
After a season of success and almost a full offseason of study, workouts and minicamps, Roman and Smith now look back at that offense from the early portion of 2011 and see a much different offense as the start of training camp approaches later this month.
"We evolved a lot as the season went on," Roman told reporters recently. "Going back and looking at some of those early games, it's hard to remember being in that position where it's all new for everybody for the first time.
"So that's what we're going through as coaches right now, the entire staff, at every position. It's an opportunity at this time of year for all the position coaches to really, really spend a lot of time with their guys."
The Niners' running game began clicking early last season and became the unit's hallmark. San Francisco was eighth in the league in rushing yards in 2011. But the passing game took time.
Of the first six games in 2011, only twice did the 49ers throw for more than 200 yards.
By the end of the season, it was much more effective in spurts, but still nothing like the high-powered air attacks of other teams in the league, such as New Orleans or New England. Overall, the Niners ranked 29th in the NFL in passing yards.
With more time to work on the intricacies of the playbook this offseason, and a deeper corps of receivers, the 49ers believe their passing attack can be much better in 2012.
"It's kind of laughable to compare it to last year," Smith said of the offense, before the start of minicamp.
Added Roman: "We are so much further ahead."
Roman said the minicamp and the chance for the quarterback group and wide receivers group to work closely together the past couple of months has allowed the unit to fine tune its timing. More players are now on the same page.
"There's no question, every day it's getting better," Roman said after the recent minicamp. "And every day there's always going to be a play here and a play there where it's not what you want. But now it's another opportunity to coach off that and the player to learn from it.
"And we're seeing improvement everywhere. Alex, all the quarterbacks, just the cohesion. We always talk about getting to the spot in the passing game. And guys are getting to the spot at a much higher percentage. And it's tangible, it's quantifiable, it's real."