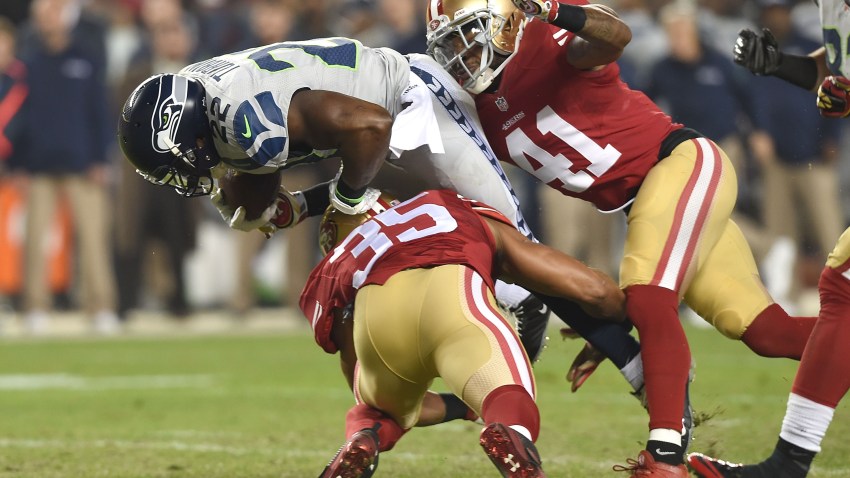 This offseason, the 49ers have lost linebackers Patrick Willis and Chris Borland, offensive tackle Anthony Davis and defensive end Justin Smith to retirement.
Apparently, another 49ers starter also considered stepping away from the game because of concussions.
Or did he?
Niners safety Eric Reid – who's participating in the team's full-squad mandatory minicamp this week -- told Eric Branch of the San Francisco Chronicle this week that he had considered retiring because he's had three concussions in his first two years in the NFL.
"Everybody evaluates their own situation as far as playing this game," Reid told Branch in a story with the headline, "Reid, too, mulled giving up football." "I've evaluated mine and I've decided I still want to play."
Borland's retirement was due to his concern over his long-term health. After just one season in the league, he decided to step away because of the danger of concussions.
Reid seemed to indicate to Branch that he had similar concerns.
Reid, 23, told the Chronicle: "There is a doctor that I'm looking further into and I may end up going to see. Like I said, right now I've evaluated my situation and I feel comfortable playing."
But after the Chronicle story was published, Reid went to Twitter to dispute the story and say he had never considered quitting football.
Tweeted Reid: "The media always finds a way to twist your words … they just want you to click on their article. Just to be clear, I NEVER SAID, 'I've given some thought to leaving the NFL.' "
Reid also tweeted to Branch that "Your article was not an accurate portrayal of my words."
According to the Chronicle, the paper tried to talk to Reid after his tweets – in order for him to have a chance to address the story – but "he declined the request through a team spokesman."
Reid is known as a hard hitter and a willing tackler. He made the Pro Bowl as a rookie and, paired with veteran Antoine Bethea, gives the 49ers a solid duo of safeties.
But the 49ers also have a pair of young safeties behind him in last year's No. 1 pick, Jimmie Ward, and this year's second-rounder, Jaquiski Tartt.