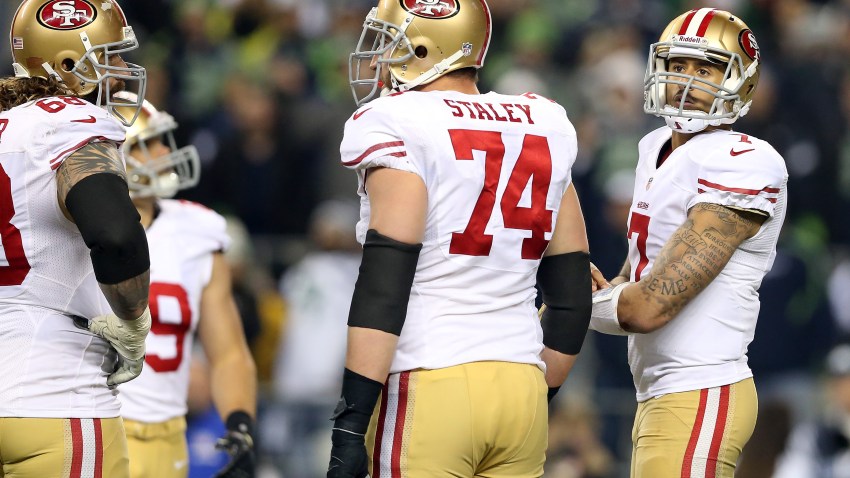 Just two years ago, it seemed there was no limit to what the 49ers might do.
San Francisco had just come off a trip to the Super Bowl and its lineup was stacked with some of the best players in the NFL.
In fact, the 49ers had nine athletes on the NFL Network's annual rating of the Top 100 Players in the league.
Back then, the 49ers, Eagles and Ravens – also with nine players – led the NFL in talent, according to the NFL Network. San Francisco's representatives were safety Dashon Goldson (ranked 96th), quarterback Colin Kaepernick (81), tackle Joe Staley (78), tight end Vernon Davis (38), linebacker NaVorro Bowman (37), running back Frank Gore (32), defensive end Justin Smith (29), linebacker Patrick Willis (10) and outside linebacker Aldon Smith (7).
What a difference two years make.
When the NFL Network recently released its Top 100 Players of 2015, the 49ers had no players on the list. Zero.
That doesn't mean the 49ers don't have impact players, however.
Aldon Smith, who missed a good chunk of 2014, is healthy and motivated and promises he'll again be an impact player. Davis, too, has had a strong offseason after a disappointing 2014. And Bowman, perhaps the best inside linebacker in the NFL two seasons ago, reportedly is all the way back from injury and rehab. If he's healthy, there's no reason to believe he again can't be terrific. Plus Staley remains as the anchor to the left side of the offensive line, and Kaepernick has undergone an offseason tuneup, and may be used in an offense built more to accentuate his talents.
Though the 49ers have lost Gore, Justin Smith and Willis – along with several other veterans this offseason – San Francisco still has a talented roster.
The analytics website Pro Football Focus puts the 49ers roster near the middle of the NFL pack in talent, ranking them 17th, noting that Bowman and Aldon Smith could still prove to be elite talents and that Kaepernnick has the potential to take a big step forward after the team finally landed a legitimate deep-threat receiver in Torrey Smith. Plus, free-agent addition Darnell Dockett "was a force along the defensive line" in Arizona before his injury in 2014, and could again be an elite defensive lineman in 2015 for the 49ers.
Also, Greg Cosell, a senior producer for NFL Films, attended San Francisco workouts this spring and came away more impressed than he thought he would be. He said in June that he was "struck by how talented a team the 49ers are."
So, while the cupboard appears bare from the outside, the 49ers actually have more talent than some believe. It's possible that in the NFL Network's 2016 rankings of the Top 100 Players, there could be a handful of 49ers on the list.