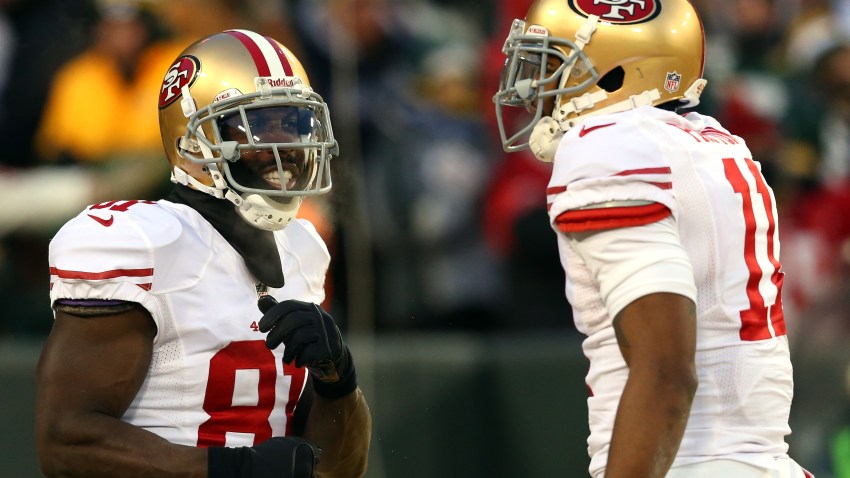 When the 49ers used their No. 1 pick to take wide receiver A.J. Jenkins in the 2012 draft, it was hoped Jenkins would become the team's deep threat.
Instead, he couldn't get off the bench and was traded away.
Over the past two years, the Niners also have had similar hopes for Ricardo Lockette, Mario Manningham and Jonathan Baldwin, among others. But each hasn't been able to fill the role of a speedy, deep-threat wideout who can stretch defenses.
Now, with the emergence of the Seattle Seahawks, the 49ers need such a receiver more than ever.
Going into 2014 the 49ers have two excellent, proven pass catchers in Michael Crabtree and Anquan Boldin, and a young receiver they like in Quinton Patton. But none of those three has the blazing speed that would force the Seahawks secondary to respect the deep ball.
As Matt Barrows of the Sacramento Bee wrote this week, one of the keys for 49ers GM Trent Baalke is to find a downfield wide receiver who can "force Seattle's talented safeties off the line of scrimmage." As Barrows noted, Seahawks safety Kam Chancellor had a monster game in the Super Bowl against Denver because he could play up close against the run and also punish receivers on short routes over the middle. Any deep-threat receiver the 49ers choose to pursue will not only have to have speed, but size to battle Seattle's big defensive backs as well. That's where Jenkins never seemed to have a chance. He simply wasn't strong enough to break away from defensive backs or battle for jump balls.
The 49ers right now have 11 picks in the draft, and are expecting to be awarded another before the three-day selection process in early May.
This year's draft class offers a good crop of wideouts. As many as nine different wide receivers could be taken in the first round, according to NFL.com analysts and former NFL scouts Daniel Jeremiah and Bucky Brooks. That means the 49ers, drafting 30th, could still land a fast, playmaking wide receiver even picking at the tail end of the draft.
Among the best prospects are Clemson's Sammy Watkins (who is expected to soon declare for the draft) – likely the fastest of the group – Texas A&M's Mike Evans, USC's Marqise Lee and Florida State's Kelvin Benjamin. Watkins is expected to go high in the first round, long before the 49ers pick. But as Baalke showed last year, he has plenty of picks to trade and could move high to snag a wideout he believes could be a difference-maker.
So far, Baalke has been a great judge of talent in his reign as San Francisco GM. The team's roster is stacked. And, his trade for Boldin last offseason proved to be one of the smartest moves in the NFL. But so far he's whiffed in his attempts to bring in a game-breaking wideout.
Now, as the 49ers and Seahawks are about ready to start matching offseason moves to gain the upper hand in the NFC West in 2014, it will be imperative for him to bring in a wideout who will be able to break free from Seattle's terrific secondary.