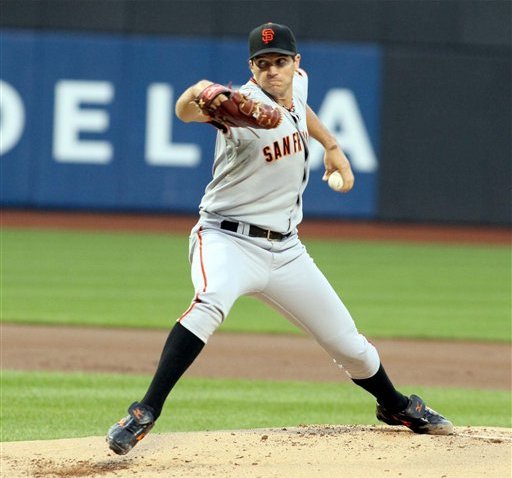 "We just didn't do anything offensively," Giants manager Bruce Bochy said following San Franciso's sixth shutout of the season.
The Giants could only muster four hits against the Mets pitchers and San Francisco lost the first game of a season long 11-game road trip 3-0 to New York. Barry Zito (8-11) had a season best four-start unbeaten streak broken after pitching five solid innings.
Angel Pagan connected against Zito for New York's first leadoff homer of the season. Zito didn't allow another hit until Luis Castillo's leadoff single in the fourth. Two batters later, Francoeur doubled over center fielder Aaron Rowand to give New York a 2-0 lead. Wearing cream-colored throwback jerseys modeled after the 1905 Giants, New York bounced back from a miserable 2-5 road trip with its 10th shutout of the season. The Mets pulled within 9 1/2 games of wild card-leading Colorado with the victory and need to string together some wins during their season-long 11-game homestand to get back in the playoff race.
The Giants' best opportunity came in the eighth against Brian Stokes, when they put runners on first and second with one out. Pedro Feliciano came in and retired Eugenio Velez on a fielder's choice before Freddy Sanchez bounced to third to end the inning.
Francisco Rodriguez then pitched a perfect ninth to finish the four-hitter and record his 26th save in 31 opportunities.
Edgar Renteria had two hits for San Francisco, which stayed 1 1/2 back of Colorado. Zito allowed three runs and five hits in five-plus innings, ending a four-start unbeaten streak.
"We have to start playing on the road better," Renteria said. "We want to do it. We're going to be all right."
Game two of the series is at 1:00pm PT on Saturday. Matt Cain takes the hill against Johan Santana.