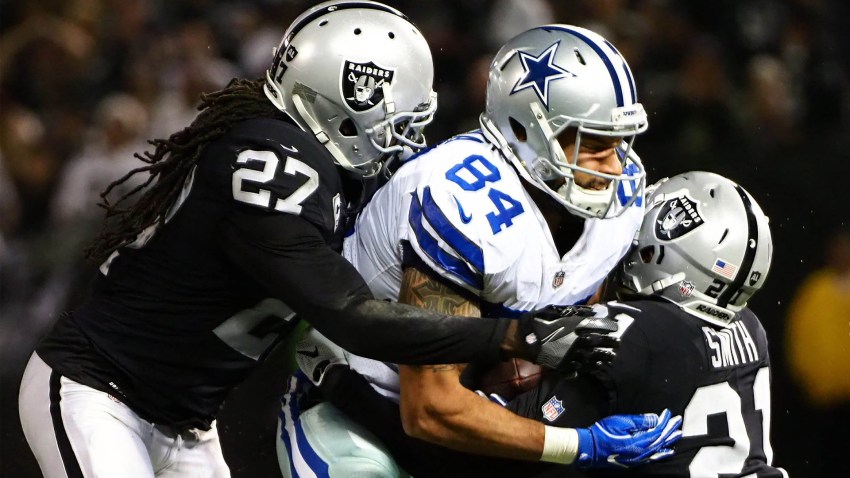 The Raiders defense has done an about face. A previously porous unit has tightened up the past five weeks, showing remarkable growth with the same personnel.
The statistical swings are shocking, but we'll get to that later.
Let's focus instead on the dividing line. It was not arbitrary.
Defensive coordinator Ken Norton Jr. was fired following an embarrassing loss to New England in Mexico City that dropped the Raiders to 4-6.
John Pagano became the new play caller, and things got better fast. Pagano has received significant credit for that.
It's deserved. We've written extensively about Pagano's positive impact in a short amount of time. He has added disguise to his pass rush. He's moving Khalil Mack around and scheming favorable matchups for the reigning defensive player of the year. He has cornerbacks shadowing receivers to great effect.
Pagano has provided clarity on assignments, asking his players to do simple better.
Coaching is one side of the turnaround. Execution is another, and improvements has come from a depth chart motivated by a traumatic event.
Norton was immensely popular in the locker room, among all defensive position groups. His firing was met with anger, frustration and, eventually, regret.
Norton took the change hard. His players did, too.
"It trickled down to a lot of people," defensive co-captain and free safety Reggie Nelson said. "One thing about it: we're out there performing, not him. You sit there after and you question yourself. Did I not do my job for this man? Did I not do everything I could?"
There was a feeling in the locker room that Norton didn't deserve the axe. Many were immediately upset. Anger wasn't going to bring Norton back on staff. Players couldn't do anything about the switch, and eventually chose to channel the emotion in a positive way.
"For that situation to happen, we really felt terrible," cornerback TJ Carrie said. "We really started to dive in and be more accountable of ourselves. It's not that we weren't before, but you take one, then two, then three looks at how to improve yourself and your game to benefit the unit."
Nelson agrees.
"The sense of urgency picked up – not that it wasn't there before – and we've been making a ton of plays," he said. "Hats go off to the coaching staff for getting us prepared the past couple weeks. We've got to continue to finish strong and continue to compete."
Sunday's game against the Los Angeles Chargers is the last chance to keep this good thing going.
The Raiders are a top five defense in third-down conversion percentage, yards allowed per game, passing yards allowed per game, first downs per game and sacks since Pagano took over.
They had six turnovers and no interceptions in 10 games under Norton. They've had eight since the switch, with five picks. They had 14 sacks over the first 10 games, and 16 since.
The Associated Press found a crazy stat that illustrates this defensive surge. Quarterbacks who faced the Raiders in the first 10 games had a 113.3 passer rating versus the Raiders and 89 against everybody else. Since Pagano took over, quarterbacks have a 72.1 rating against the Raiders and 91.6 against everybody else.
The play-calling switch was impactful with scheme adjustments and players who turned an unwelcome turn into something positive. Now they've created hope for a better 2018 – if they upgrade certain positions – and given beleaguered head coach Jack Del Rio something to champion this offseason.
"Our defensive production has clearly gone up, and something abrupt and shocking like that can have that kind of affect," head coach Jack Del Rio said. "If anything, it causes people to look around and realize -- it's a reminder. We all know the business we're in. It's a competitive, production-oriented business."
Copyright CSNBY - CSN BAY