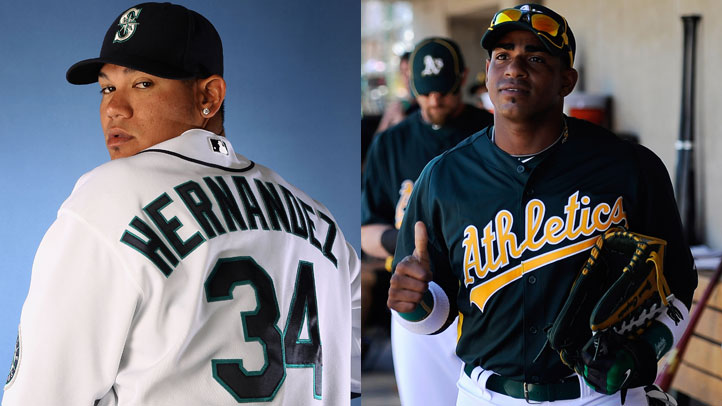 On Wednesday night, the Major League Baseball regular season kicks off ... in Japan! Sure, why not? This two-game series between the A's and Mariners is essentially unwatchable in America, depending on your time zone but that doesn't mean we can't break it down.
Let's take a look at the matchups.
Wednesday, 3:10 a.m. PST: Brandon McCarthy (OAK) vs. Felix Hernandez (SEA)
Though McCarthy bounced back in a big way last year, pitching 170.2 innings and lowering his ERA to 3.32, there's not much room for optimism for the A's here.
That's because King Felix takes the mound for Seattle, and while we can't predict how he'll pitch in Tokyo, we can examine how he pitches against the A's. And it is not good news for Oakland: in 21 career starts, Felix is 12-4 against the A's and has allowed just 41 earned runs in 145.1 innings. He's also struck out 142 batters in that span. It wouldn't be shocking to see him put up an eight-inning, 13-strikeout performance.
McCarthy, on the other hand, is 2-5 against Seattle in his career, with a 4.20 ERA in nine starts. He has 51 strikeouts in 60 innings and 28 earned runs allowed. It's not a friendly matchup.
Of course, he could hold his own here; neither team is particularly dangerous with the bat.
Worth watching on the A's side: Expect everyone across the globe to take a peak at Yoenis Cespedes, the mysterious Cuban import who Billy Beane bought simply to defy critics of Moneyball. Or something: Cespedes sat out the exhibition finale for the A's, but Bob Melvin says he'll play.
Whether he'll hit is a whole different ballgame -- Cespedes stats in spring training are a potentially horrifying preview of a guy who can hit for power ... when he makes contact. .200/.286/.360 with seven strikeouts and one home run in eight games is not want A's fans want to see if they expected him to put the team on his back.
Worth watching on the Mariner's side: Please don't be scared (or happy, if you're rooting for the A's) when you see Ichiro Suzuki not batting leadoff for the Mariners: Eric Wedge is batting him third this year to see if it helps an anemic lineup. We shall see.
Thursday, 2:10 a.m. PST: Bartolo Colon (OAK) vs. Jason Vargas (SEA)
Watch out, because this pitching matchup is a scorcher. No, no it's not. In fact, one could reasonably ascertain that America is only sending this matchup to Japan because it's an exhibition game.
A-HA. Just testing you. These games actually count -- they're the regular-season opener for baseball for crying out loud.
Most people might not count them for fantasy baseball purposes, but rest assured, Bud Selig and the bean-counters who run the MLB standings page will absolutely be keeping track of who wins and who loses here.
Then again, it doesn't really matter -- it would be beyond shocking if either the A's or the Mariners made some noise in the AL West. Baseball Prospectus' PECOTA system projects them for a combined 143 wins.
So, yes, they count, but they probably won't matter in September. Or August. And seriously: Bartolo Colon vs. Jason Vargas. If you get up at two in the morning to watch that you're incredibly dedicated. And insane.
Worth watching on the A's side: Jemile Weeks stole 22 bases and batted .302 in 2011. He was also caught stealing 11 (!) times last year. That's a bad thing because it's a horrible percentage. It's a good thing because the dude is going to get his chance to steal bases and make things happen. If he can develop some power -- only two home runs last year -- he could legitimately turn into one of the more dynamic players in the AL West, which is saying something. That campaign starts Wednesday.
Worth watching on the Mariners side: Jesus Montero is the newest addition to the M's roster, having been traded to Seattle in exchange for potential ace Michael Pineda. And boy can he hit! Well, boy, he better hit might be more appropriate. It was a bold move for the M's, but they clearly think they've got a decent core -- Dustin Ackley, Montero and Justin Smoak namely -- who can combine with Ichirio and some OK pitching to make a move.