What to Know
MLB placed Phillies outfielder Odubel Herrera on administrative leave following his arrest following a domestic assault incident.
Atlantic City police say a woman told them that she suffered visible injuries to her arms and neck during a domestic dispute with Herrera.
"The Phillies take any domestic violence accusation seriously, and strongly support the Joint Domestic Violence Policy," the team said.
Odubel Herrera is on paid administrative leave after police in Atlantic City, New Jersey, charged the Phillies outfielder with assault following a domestic abuse allegation Monday.
The 27-year-old former All-Star, whose full name is David Odubel Herrera, was arrested around 8:30 p.m. on Memorial Day at the Golden Nugget Casino. A 20-year-old woman, who identified herself as Herrera's girlfriend, had "visible signs of injury to her arms and neck" that were caused by Herrera during a dispute, Atlantic City police said.
In a criminal complaint obtained by NBC10, police describe the injuries as "minor," but do say that the woman had "hand print markings to her neck area" and "small scratches" on her arms.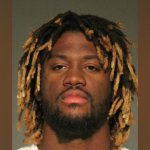 The woman, who is from Philadelphia, refused medical treatment, investigators said. Herrera was arrested in his hotel room without incident, police said.
Herrera, a starting center fielder in his fifth year with the Phillies, had a day off on Monday after the team wrapped up a road trip Sunday. He was given a summons and a future court date is pending, police said.
The Phillies alerted Major League Baseball about Herrera's arrest, the team said. MLB then placed the Venezuelan native on paid administrative leave, which is basically a temporary paid suspension to allow time for the league to investigate.
"The Phillies take any domestic violence accusation seriously, and strongly support the Joint Domestic Violence Policy agreed upon by MLB and the MLBPA," the team said in a brief release.
MLB's domestic violence policy was adopted in 2015. Under the policy, players accused of domestic violence are subject to an internal MLB investigation that could result in psychological evaluations, mandatory counseling sessions and full compliance with court orders.
MLB has seven days to investigate the claims against Herrera. After that time they can ask for an extension or transfer the paid leave to a suspension without pay, according to the MLB Collective Bargaining Agreement.
Herrera can request arbitration and ask for reinstatement.
Herrera has struggled offensively this season, batting .222 with one homer, 12 runs and 16 RBIs in 39 games with the Phillies.
The casino declined to comment.
Herrera is due in court in June, the criminal complaint said.
Phillies General Manager Matt Klentak addressed the charges during an interview Tuesday. He told reporters he was in a meeting preparing for next week's MLB Draft when he received a call, voicemail and text from Phillies Vice President of Communications Bonnie Clark informing him of the arrest.
Klentak then contacted Phillies president Andy MacPhail, Phillies manager Gabe Kapler, the team's ownership and Major League Baseball.
"We spent the better part of the morning on the phone with the league figuring out next steps and learning more information," Klentak said.
Klentak also told NBC10 he and Kapler spoke with Herrera to inform him that he'd be placed on administrative leave for at least seven days. Herrera did not give an explanation for what happened but apologized, according to Klentak.
"I think the best approach in this matter is to operate with an element of transparency and honesty," Klentak said. "So as we get more information, we'll share it."
Phillies player Nick Williams will return to the starting lineup in place of Herrera during Tuesday's game against the St. Louis Cardinals. He will start in left field and bat eighth in the lineup.
If you've been the victim of domestic violence or know someone who is, please call the Philadelphia Domestic Violence Hotline at 1-866-723-3014.
[NATL] Top Sports Photos: Washington Nationals Win World Series, and More