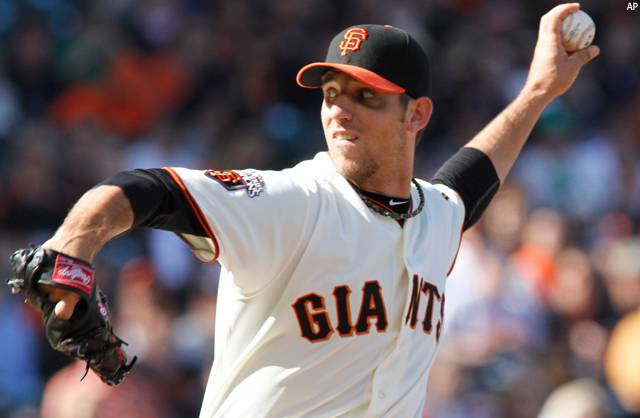 Madison Bumgarner won his fourth straight start, Pablo Sandoval doubled home the go-ahead run in the fifth inning and the San Francisco Giants beat the Los Angeles Dodgers 8-1 Sunday to avoid a three-game sweep.
Bumgarner (11-12) struck out eight and allowed three hits in five innings, matching the longest winning streak of his career and improving to 8-3 with a 2.73 ERA since June 26.
It's probably too little too late for the defending World Series champions, who snapped a three-game losing streak and trail NL West-leading Arizona by 8 1-2 games. When San Francisco scored two runs in the fifth and five in the sixth, it marked the first time since July 3 the Giants scored multiple runs in consecutive innings.
Slumping Aubrey Huff had two hits and a bases-loaded walk in his first start since Monday. Sandoval finished with a career-high three doubles, tying a Giants regular season record at AT&T Park.
Tony Gwynn Jr. doubled in the Dodgers' run but struck out with the potential tying run at second base in the sixth. Los Angeles lost for only the third time in 13 games.
San Francisco had gone 18 consecutive scoreless innings until breaking through against Los Angeles starter Hiroki Kuroda, who had not lost in four previous appearances at the Giants.
Sandoval drove in Jeff Keppinger for a 2-1 lead in the fifth and Huff followed with an RBI single on an 0-2 pitch. In a 5-for-36 (.139) slump coming in, Huff also walked with the bases loaded against Scott Elbert during a five-run sixth.
In the second, Huff doubled leading off after initially thinking he had a home run. The ball hit the top of the fence and bounced back onto the field, but second base umpire John Hirschbeck ruled the ball was still in play. Umpires upheld the call following a video review.
It was reminiscent of San Francisco's win over Texas in Game 2 of the World Series last year when the Rangers' Ian Kinsler hit a ball to almost the same spot as Huff did. Kinsler was also given a double on the play.
Three batters later, Eli Whiteside singled in Huff with San Francisco's first run.
Kuroda (11-16) allowed three runs and eight hits in 4 2-3 innings, his shortest outing since getting only 12 outs against San Diego on Aug. 2 last year.
Cody Ross hit a bases-loaded double and Mark De Rosa added a pinch two-run single in the sixth.
Los Angeles scored its lone run in the second and had a chance for more with the bases loaded before Bumgarner worked his way out of it. He got Kuroda to ground into a force play at home then retired Dee Gordon on a comebacker.
The Dodgers managed only four runners the rest of the way and ended their trip 7-3.