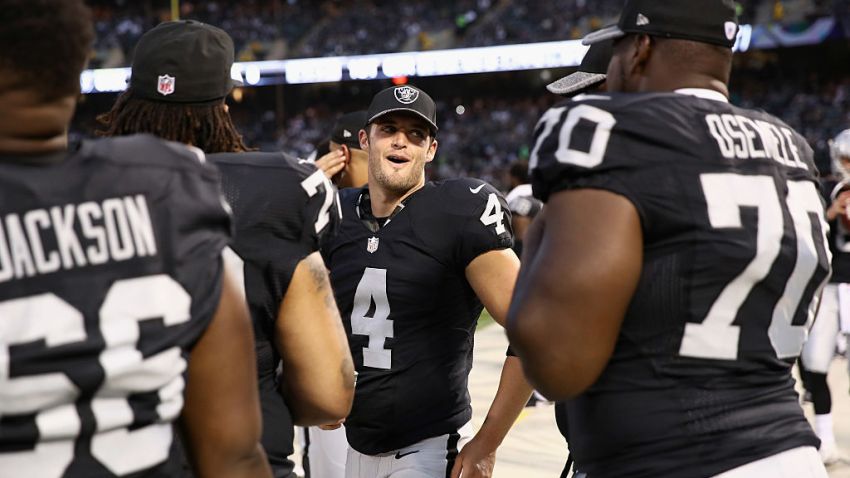 The Raiders reached deep into their bank account to sign offensive lineman Kelechi Osemele this offseason, giving him a five-year, $58 million deal.
If his first game as a Raider is any indication, Osemele was a great investment.
Osemele started at left guard in the Raiders' victory over the Saints, then moved to left tackle in the second half when injuries forced a reshuffling of the line.
He had a dominating block on Jalen Richard's 75-yard touchdown run that impressed both his teammates and coaches.
Said quarterback Derek Carr, of Osemele's play in the opener: "He's very violent. He's a violent football player, one of, if not the most violent football players I've been around, seen, played with, played against, all the above. You'd love for a guy like that to be protecting you, the run game and all that helps. … I love that he's blocking for me. It makes me feel safe."
The Raiders offensive line, in fact, was selected by NFL.com as the league's Offensive Line of the Week. Despite injuries to Menelik Watson and Matt McCants, and the shuffled positions late in the game, Carr wasn't sacked once.
Head coach Jack Del Rio also liked what he saw of Osemele in his regular-season debut in silver and black.
"I think you saw examples last week of the player that we brought in here," Del Rio told the media this week. "He's going to help our run game. The big run by Jalen was directly behind Kelechi. He really moved his guy. He's one of the big physical men that has me talking about big, physical play in the trenches. That's a good sign for us."
The 1-0 Raiders will try to keep their momentum going this Sunday against the visiting Falcons. Kickoff is set for 1:25 p.m.