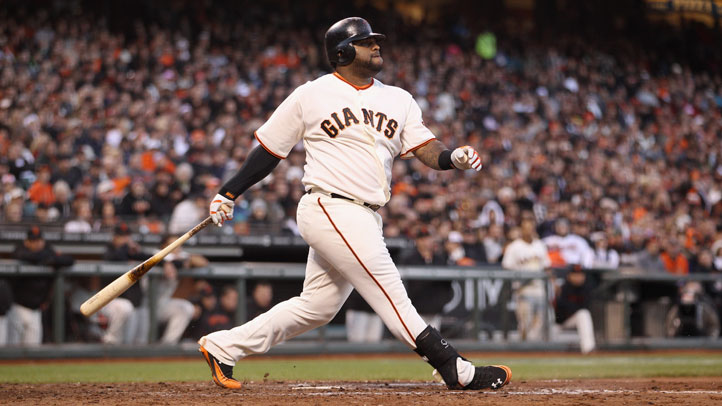 UPDATE: Sandoval got a hit in the first inning of Monday's early game against the Mets. That means he is now just one game away from tying Willie Mays for getting the most consecutive hits to begin a season. The tie would come at the second game of a double header in New York which can be viewed on our sister station Comcast Sports Net.
========================
Pablo Sandoval's having a great start to 2012, and he's closing in on a pretty impressive team record: most consecutive games with a hit to start the season.
Willie Mays currently holds the San Francisco Giants record for most games with a hit to start the season with 16.
But Panda, with a third-inning RBI single against the Mets on Saturday, successfully hit for the 14th-straight game to begin the 2012 season.
Sunday's rain delay means Pablo will have two games in one day Monday with a potential for making history in New York.
Rich Aurilla (2001), Mike Woodard (1985) and Ken Henderson (1971) all hit in 13-straight games to start a season, and Felipe Alou (1962) and Shawon Dunston (1996) also had streaks of 12-straight games to start a season.
If Sandoval can pick up a hit in each of the next two games against the Mets, he'll tie Mays' record, and then have a shot at breaking it when the Giants head to Cincinnati.
Panda really stepped up early last year after losing a ton of weight in the offseason. But injuries -- he played in just 117 games -- derailed what could've been a pretty monster season.
Currently, Sandoval's ahead of last year's hot start. Through 14 games in 2011, he had three home runs, nine RBI and posted a .347/.385/.551 line.
Through 13 games this year, Sandoval's got two homers, nine RBI and a .340/.397/.547 line. And, of course, he raised those averages and tacked on another RBI with his early performance against the Mets.
If he can maintain this pace over the course of the season, he'll likely be in line for a 30-homer, 100-RBI season with an OBP near .400.
But if he keeps streaking on past Mays, the sky might be even higher.