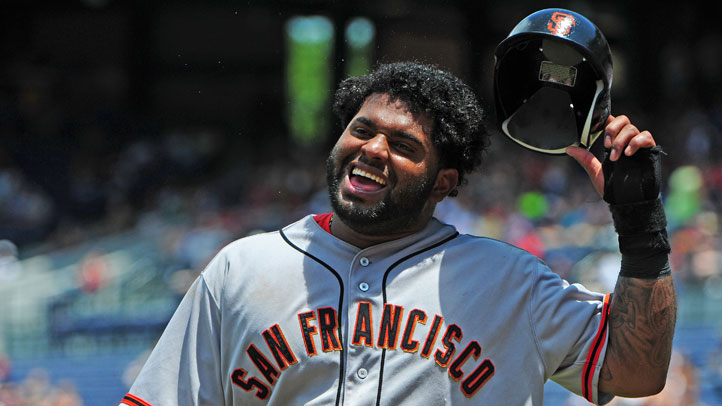 Pablo Sandoval found himself in the lineup at first base on Monday night, and as a result, Brandon Belt found his way to the bench, in a trend that could become more and more frequent.
The logic from Bruce Bochy, as always, was sound, but it's clear what's going on: moving forward, we could see lots of Panda at first base, lots of Joaquin Arias at third and very much of Belt on the bench.
"With the lefty going today, Arias was going to play," Bochy said, via MLB.com. "So it was going to be either [Brandon] Crawford or Belt [sitting out], and let's be honest, Belt is struggling right now. It was a tough road trip for him right now. He needs a break. He's not swinging the bat very well right now, and he's working on some things."
Belt is struggling: in the month of July, Belt is hitting .133/.231/.386 with no home runs, two RBI, one double and 18 strikeouts in 52 plate appearances over the span of 17 games (10 games started). It's not a very impressive month, and there's little question that he's lacking confidence right now.
Bochy believes the Giants can eventually get it back, but that Belt's admission that he lacked confidence "forced" him to make some lineup changes.
"We're going to get his confidence back, and he said it has been shaken a little bit," Bochy said. "Well, you're forced to make a move when you hear that."
As for Sandoval, well, he's obviously not going to complain about playing first.
"I'm just going to do my best to play my game and win the game," Sandoval said. "No matter where I play, I'll be playing hard and just trying to catch the ball and make the play."
Surely he feels bad about hosing Belt a little bit, but there's not much he can do. This was Sandoval's second start at first base since Hector Sanchez went down, and it almost certainly won't be his last.
If Buster Posey is behind the plate, Bochy's going to want to maximize the offense he can put on the infield. (The defense, in terms of losing Belt and adding Panda, isn't even close.) Right now, it's no contest between Belt and Sandoval, so don't be shocked if this happens more often going forward.