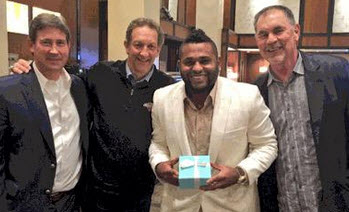 A key — yet now controversial — figure in the San Francisco Giants' championship run finally got the ring on his finger.
Last night, the team gave Pablo Sandoval his third World Series ring in five years. Sandoval is in town because the Oakland A's host the Boston Red Sox tonight. And as any Giants fan will surely tell you — Panda's now a Red Sock.

In this photo tweeted out by the Giants this morning, you can see Pablo with Giants CEO Larry Baer, Giants general manager Bobby Evans and manager Bruce Bochy.
Last night, the #SFGiants presented @KFP48 with his 2014 World Series Champions Ring pic.twitter.com/xN7IQJYEMT — San Francisco Giants (@SFGiants) May 11, 2015
The three visited Sandoval at the Red Sox team hotel to privately present him with his hardware.
"Pablo was a big part of this club and he helped us win three championships," Bochy said. "I'm looking forward to seeing him and handing Pablo his ring and just catching up with him. We really haven't caught up since he moved on."
Sandoval was a key bat during last October's World Series run, but he signed a five-year deal with the Red Sox in the offseason, spurning a similar offer from the Giants. Sandoval is hitting .299 with two homers and 12 RBI in his first season in the American League. The Red Sox don't play the Giants this season, so there was no way for an on-field ceremony, like Michael Morse received last week.
This spring, Sandoval took shots at his former team in an interview with Bleacher Report, saying it was "not hard at all" to move on. Sandoval said he believes the Giants disrespected his agent, and in his most pointed comments he said he doesn't miss a clubhouse he was a part of for seven seasons.
"Only Bochy," Sandoval said. "I love Boch. He's like my dad. He's the only guy that I miss. And Hunter Pence. Just those guys. But now, I feel like I'm home."
Bochy said there are no hard feelings about those comments, which Sandoval did not back down from when later given the opportunity.
"We appreciate what Pablo did for us," Bochy said. "Some things were taken out of context, that's what I've been told through friends of his — that he didn't mean it the way it came out."
Enjoyed visiting w Bruce Bochy, Bobby Evans & Larry Baer last night & look what they gave me! My Ring! Thank you! pic.twitter.com/oDNJy9Toz5 — KFP48 (@KFP48) May 11, 2015