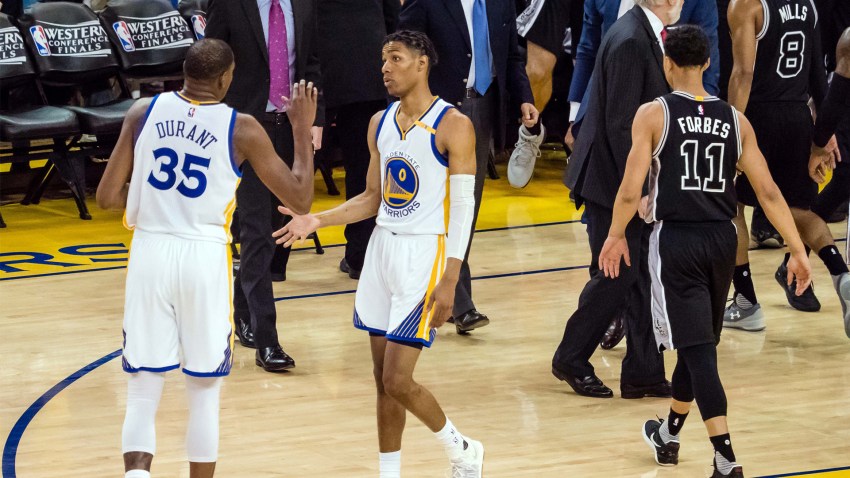 In 43 seasons battling the Spurs, only once have the Warriors swept a season series, a feat they will accomplish again with a victory Monday night in San Antonio.
Winning at AT&T Center will be a tough task for the depleted Warriors (53-17), who for the third consecutive game will take the floor with three of their four All-Stars -- Stephen Curry, Kevin Durant and Klay Thompson -- unavailable. Guard Pat McCaw, however, will be available for the first time in five weeks.
After the Spurs (40-30) lost nine of 11 games over a 30-day span and seemed to be fading from the playoff race, they've posted three straight wins and are very much in the race, despite the continued absence of star forward Kawhi Leonard.
BETTING LINE
Spurs by 7
MATCHUP TO WATCH
Draymond Green & Co. vs. LaMarcus Aldridge: Aldridge is a load for any defender and has carried the Spurs this season. Expect the Warriors to stick to their routine when facing a single pivotal player and send a variety of defenders. Green is sure to be one of them. Others likely to take turns include Zaza Pachulia, JaVale McGee, David West and maybe even Kevon Looney. The Warriors will consider it success if they can keep Aldridge under 30 points.
INJURY REPORT
Warriors: F Omri Casspi (R ankle tweak), G Stephen Curry (R ankle tweak), F Kevin Durant (R rib fracture) and G Klay Thompson (R thumb fracture) and listed as out.
Spurs: F Kawhi Leonard (return from injury management) is listed as out.
LAST 10
Warriors: 7-3. Spurs: 5-5.
GAME OFFICIALS
James Capers (crew chief), Bennie Adams, Karl Lane
SERIES HISTORY
The Warriors won the first three of four meetings this season: 112-92 on Nov. 2 in San Antonio, 122-105 on Feb. 10 in Oakland and 110-107 on March 8 at Oakland. They were 1-2 against San Antonio last season and are 9-7 against the Spurs in the Steve Kerr era.
THREE THINGS TO WATCH
COOK'S ROLL: Two-way PG Quinn Cook was terrific in the last two games, scoring a combined 53 points on 21-of-30 shooting. That was against lottery teams. The Spurs traditionally make life tough for guards and will pose a much bigger challenge. If Cook stays hot under this pressure, the Warriors will be beyond ecstatic.
MCCAW RETURNS: The return of McCaw, out since Feb. 12 with a L wrist fracture, gives the Warriors a fourth guard and some welcome flexibility. Cook played 80 minutes in the recent back-to-back set, and Nick Young played 78. McCaw will be on a minutes restriction (less than 20) but can perform on or off the ball.
THE BENCH GAME: Spurs coach Gregg Popovich has virtually trademarked liberal usage of reserves; only San Antonio has had eight players score in double figures in three different games this season, and 13 different Spurs average at least 10 ppg. Their depth will be a problem for these very thin Warriors.
Copyright CSNBY - CSN BAY