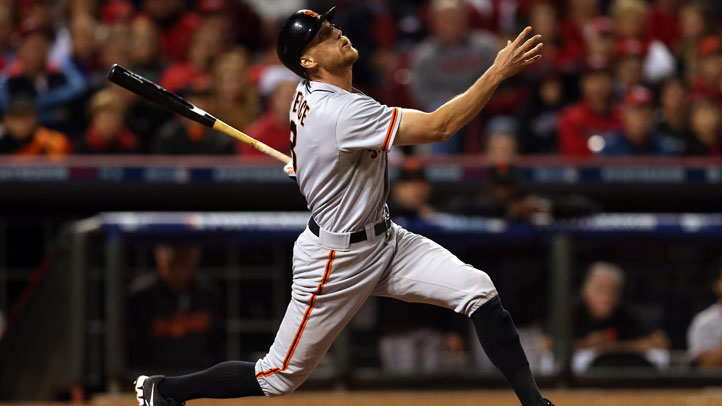 On Tuesday night, Hunter Pence was a big part of the Giants extra-inning victory. He injured his leg while batting in the top of the 10th, but stayed in the box and managed to slap a single, moving Buster Posey into scoring position.
Posey would eventually score the game-winning run. But Pence did more than just that, as teammates said after the game that the outfielder delivered a fiery pregame speech to the team.
"He was excited, man," Affeldt said. "The words were like poetry, but the way he delivered it was very moving. He stepped up and inspired the whole team. When that thing was over, you just wanted to start head-buttin' people."
Folks outside the clubhouse apparently heard the screaming and yelling that resulted from Pence's speech. But the message inside was loud and clear.
"It really touched home," Ryan Vogelsong said. "It wasn't what he said, it was the intensity of it. The truth of it."
It's nuts to think that the bug-eyed outfielder who was acquired at the trade deadline could've already become a clubhouse leader in San Francisco, but it appears to be the case. Pence hit all of one home run for the Giants since they nabbed him from Philadelphia, and his performance in the playoffs hasn't been outstanding either.
But if he can crank out a passionate plea to the team that gets them going against the Reds, well, they'll take whatever else comes along. Just don't try and give him credit.
"There was nothing. Just getting ready for the game," Pence said. "We just want to play more baseball together."
They'll get their chance to do just that on Wednesday afternoon.