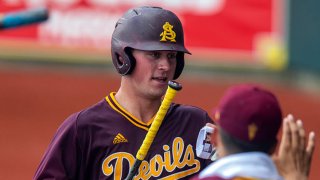 Spencer Torkelson slugged his way through college, bashing baseballs all around the country with eye-popping power.
All those impressive drives made the decision easy for the Detroit Tigers, who selected the Arizona State star and Bay Area product with the No. 1 pick in the Major League Baseball amateur draft Wednesday night.
But while Torkelson was long considered the favorite to go first overall, the surprise came when he was announced as a third baseman by Commissioner Rob Manfred. Detroit plans to move Torkelson to the hot corner from first base, where he played for the Sun Devils.
"It shows the amount of respect they have for me as an athlete," a smiling Torkelson said on the MLB Network broadcast. "I'll take it and run with it. I like to label myself as a baseball player, and you give me a bat, a ball and a glove, and you know what? I'm just going to want to win."
Arkansas outfielder Heston Kjerstad went No. 2 to Baltimore, which took Oregon State catcher Adley Rutschman with the top pick a year ago.
Shortened dramatically because of the coronavirus, the draft gave fans the closest thing they've had to a live big league baseball event since spring training was stopped in March. It came as owners and players continue contentious labor negotiations aimed at starting an abbreviated, pandemic-delayed season this summer -- likely with no crowds in ballparks.
Not long before the first pick, Manfred said there is a "100%" chance MLB will play ball this year.
After having the worst record in the majors last season, Detroit opened the draft for the second time in three years. The Tigers took Auburn right-hander Casey Mize in 2018, and now they've got a powerful bat that could anchor their lineup for years to go along with an arm they hope is a future ace.
With power to all fields and a great eye at the plate, the 6-foot-1, 220-pound Torkelson, who graduated from Casa Grande High School in Petaluma, established himself as college baseball's top slugger after going undrafted out of high school. He hit 54 home runs at Arizona State, two shy of the school record set by Bob Horner -- who was drafted No. 1 overall in 1978.
Torkelson likely would have obliterated that mark if his college season hadn't been halted after just 17 games because of the pandemic. The Petaluma, California, native hit .340 with six homers and 11 RBIs this year.
As the top overall pick, the slot value for his signing bonus is $8,415,300.
Copyright AP - Associated Press