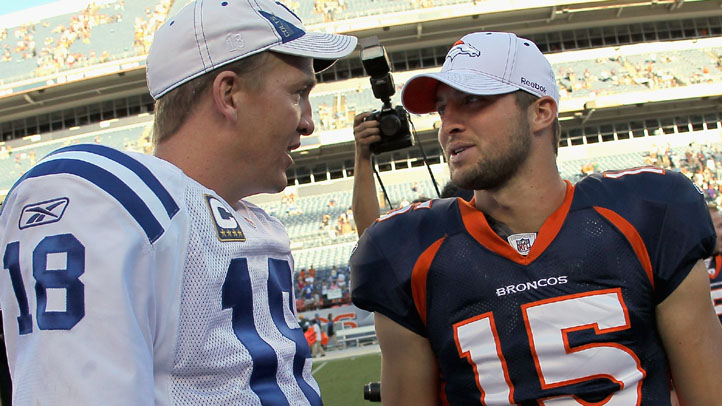 On Monday, the Denver Broncos became the big winners of the Peyton Manning sweepstakes, landing one of the NFL's all-time great quarterbacks. And in the process, John Elway finally got his wish: In one fell swoop, he landed a "traditional" quarterback and killed off Tebowmania.
The issue of Manning's health -- he's had four next surgeries in the past year -- automatically make signing Manning a huge gamble for Elway. But it's also a calculated move, because Peyton Manning is one of the few people in the world who can replace Tim Tebow without Broncos fans setting the city on fire.
Elway's acted like he had Tebow's back for a long time. But Elway's true feelings on the former BCS champion are now pretty apparent: He doesn't want to play him. He never did. Everyone always believed that, but Elway couldn't say that, even if he could imply it through passive-aggressive non-support of Tebow.
It's hard to blame Elway. This is a guy who won two Super Bowls with the Broncos and he's one of the all-time great quarterbacks in NFL history. Do you think it pained Elway watching Tebow short-hop wounded ducks all over the field? Of course it did, even if the Broncos improbably limped their way into the playoffs.
Denver was going to regress in 2012. Tebow might've made progress over the next few months leading into the 2012 season, but he wasn't going to be what Elway wanted him to be. But Denver became so obsessed with Tebow during their playoff run that there was no chance Elway could bring in someone like Chad Henne or Josh Johnson or any other free agent and expect the city to understand if and when he sat Tebow for someone with a more traditional skill set.
But Peyton Manning? How can you say no to that? The answer is, you can't. Even members of Tebow's family have to understand that Manning, one of the greatest quarterbacks to ever suit up and play football, represents a once-in-a-lifetime opportunity for a franchise.
It's impossible to believe, too, that part of Manning's deal in coming to Denver didn't involve shipping Tebow elsewhere. Manning doesn't want the glare of Tebowmania looming over his shoulder or clouding his time in Denver. He doesn't want to have a three interception game and hear the cries for Tebow or read the speculative columns about the Broncos using Tebow in the offense more.
And he's Peyton Freaking Manning: You think he's going to give up offensive possessions to let Tebow run the wildcat? Absolutely not. The only thing more unfathomable is the idea of yanking Peyton out of the huddle when the team nears the red zone so Tebow can run a quarterback draw up the middle.
There are fewer than 10 quarterbacks in the NFL that can join a roster and justify discarding the cultural phenomenon that Tebow became in 2011. Tom Brady, Drew Brees, Aaron Rodgers, Eli Manning, Ben Roethlisberger, Philip Rivers and, of course, Peyton. (You can argue one or two more like Matthew Stafford or Cam Newton if you want, but you get the point.)
All-Pro quarterbacks don't hit the free-agent market. And Super-Bowl winning, Hall-of-Fame worthy quarterbacks never do. But Peyton did. And Denver did whatever was necessary to snag Manning, even if it included ditching the quarterback who enchanted a sports-watching nation for a entire season while selling millions of dollars worth of Broncos merchandise and making the playoffs.
So the Broncos shoved all their chips into the table. It's a big-time gamble for Elway. Maybe Denver will win the Super Bowl again. Maybe they'll even play against the Giants in New Orleans -- the birthplace of the Mannings, no less! -- in 2012.
There's a lot of questions that need to be answered before we can get that far. But for now there's one thing we know: when Elway swooped in to grab Manning from the top of the free-agent pile, he managed to put the two biggest stories from the 2011 NFL season on a collision course, and effectively end Tebowmania as we knew it.