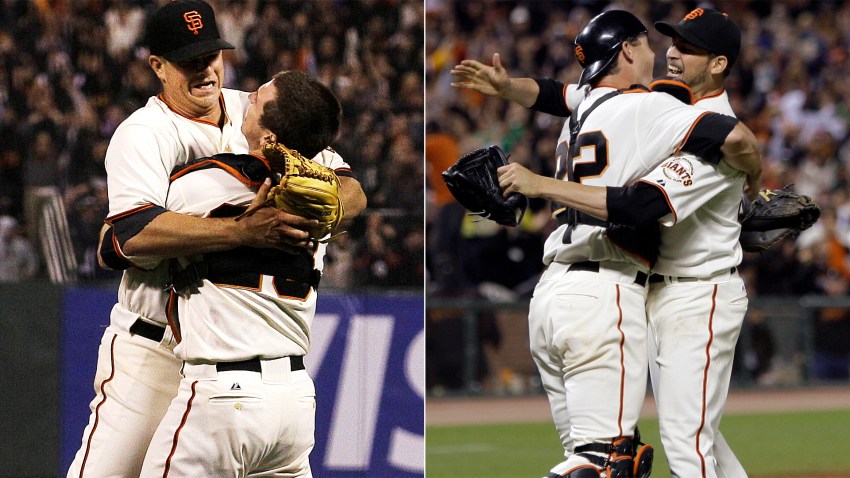 PROGRAMMING NOTE: NBC Sports Bay Area is looking back at the Giants' 60 Memorable Moments since the franchise moved from New York to San Francisco. Tune into Giants Pregame Live at 6pm to see the next two moments you can vote on! Then, after the Giants and Brewers conclude, tune into Postgame Live to see which moment will move on.
1. Matt Cain's Perfect Game in 2012 (Seven-time winner -- Defeated John 'The Count' Montefusco's no-hitter against the Braves in 1976)
(From Matt Cain - Giants Pitcher from 2005 to 2017)
The Perfect Game was one of the most memorable nights of my playing career.
I had always dreamed of throwing a no-hitter. I had come so close so many times throughout my career and in my younger years, but never had one.
The ballpark was so electric that night. We had the TaylorMade guys out hitting golf balls. Dustin Johnson hitting monster drives into McCovey Cove, and I snuck one good swing in there as well.
Pretty surreal day. I still think back to all the plays and pitches during that game. To have every single player on the same wave length and all realizing what was unfolding is truly something special. Everyone likes to say I pitched a perfect game and I get the credit for it but I'm in debt to everyone of the guys who made a play behind me , one that still doesn't make sense in right center field, and I owe the most to the guy who called 125 perfect pitches behind the plate.
Thanks to all the fans that have come up to me and shared there story about that night. So fun to hear them all!!
VS.
2. Jonathan Sanchez's no-hitter against the Padres in 2009
(From former Giants outfielder and current NBC Sports Bay Area analyst Randy Winn)
Jonathan Sanchez throws a no hitter!! Probably not the first name you would expect would do it off the 2009 Giants. With Matt Cain, Tim Lincecum, and Randy Johnson receiving the lion's share of attention, Sanchez flew under the radar. As a guy who played behind him, I can honestly tell you that he was the guy who you would say, "If he could just throw the ball in the zone consistently........" And on July 10, 2009, he did that and more.
After being moved to the bullpen for a few weeks, this start began in familiar fashion. Sanchez showed his live fastball and nasty slider in the first inning. The only difference was that he was able to repeat them inning after inning.
My vantage point for the last half of the game was on a training room table due to a foul ball off the leg. Normally, I would have returned to the bench to watch the conclusion of the game after icing, but with a no-hitter in process, I stuck to the 'Unwritten Rules of Superstition' and stayed put. After the final strike hit Eli Whiteside's glove, I made my way down to congratulate my teammate. What a great night for a Giant who flew under the radar.
VOTE HERE:
Which @SFGiants 60th Anniversary moment was more memorable?

The winning moment will move on to the next matchup.— SF Giants on NBCS (@NBCSGiants) July 26, 2018
Copyright CSNBY - CSN BAY