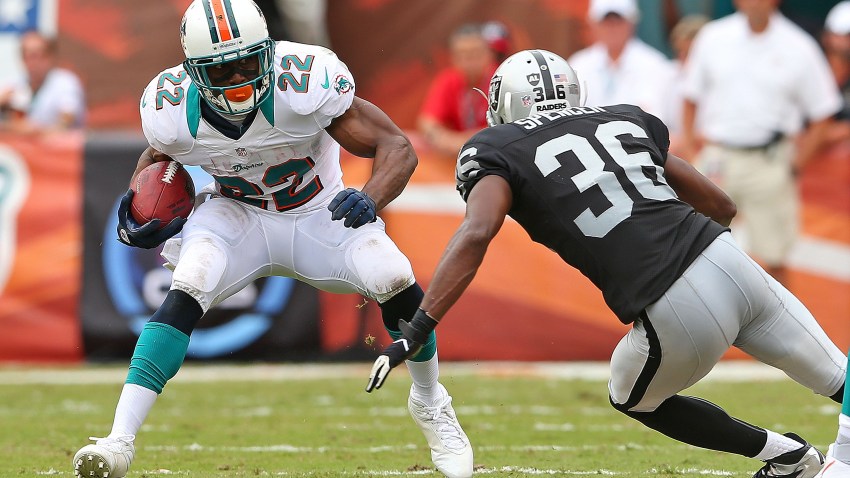 Every day, the Oakland Raiders work on tackling in practice.
Defensive coordinator Jason Tarver runs his defenders through drills, makes tackling a priority and preaches the importance of stopping defenders cold.
"We work on tackling every day," defensive tackle Tommy Kelly told Steve Corkran of the Bay Area News Group. "We work with tackling if we got pads on, we work with tackling if we don't have pads on. It's something D.A. (head coach Dennis Allen) expects. Tackle, tackle, tackle."
So, on Sunday, when Dolphins running back Reggie Bush started leaving silver-and-black defenders grasping for air as he blitzed through them for 172 yards – including two scoring runs of 65 and 23 yards in the second half of Miami's 35-13 victory – Kelly and his teammates were befuddled.
Kelly said he was thinking, "What the hell is going on?"
A day after the loss, Allen gave the Dolphins credit for their blocking, but said the Raiders' tackling needs to be better.
"I thought at the end we didn't tackle as well as we need to tackle," Allen told the San Francisco Chronicle. "So we're going to go back and look at it and see where we need to make our corrections. We're going to get better next week."
Added safety Tyvon Branch: "We have a lot to do. We have a lot to watch on film and make some corrections."
The faulty tackling was a problem last season for the Raiders, particularly late in games and late in the season when the team collapsed down the stretch to finish 8-8 and miss the playoffs yet again.
Yet with Allen – a defensive-minded coach – taking over the team and installing a new system this season, it was thought Oakland would be a different team this year. Perhaps it wouldn't be as skilled, but it would be more fundamental. The tackling would be better, fewer game-changing mistakes would be made and there would be fewer penalties.
Through two games, however, the Raiders are 28th in the league in rushing defense, giving up an average of 147.5 yards on the ground, many of those yards attributable to missed tackles.
This summer, defensive tackle Richard Seymour said he believed Oakland could be a top-five defensive team, and Kelly said he'd never been on a Raiders team that was tackling so well.
In falling to 0-2, however, the defense looks a bit like it did in 2011.
Now, too, as the Raiders prepare to face the Steelers Sunday in Oakland, the Raiders will be without their starting cornerbacks. Shawntae Spencer suffered a "significant" foot injury against the Dolphins, said Allen, and may be out for some time. Ronald Bartell, who started opposite Spencer in the season opener, broke a shoulder blade in Game 1. Now, Pat Lee is starting for Bartell and ex-Eagle Joselio Hanson will likely start for Spencer.
For a defense struggling to right itself and make the stops Allen has preached, the loss at cornerback – where missed tackles turn small gains into game-breakers – is disconcerting.
Said Allen, to the Chronicle: "At the end of the day we've got to coach better. We've got to play better. … We've got to do a better job."