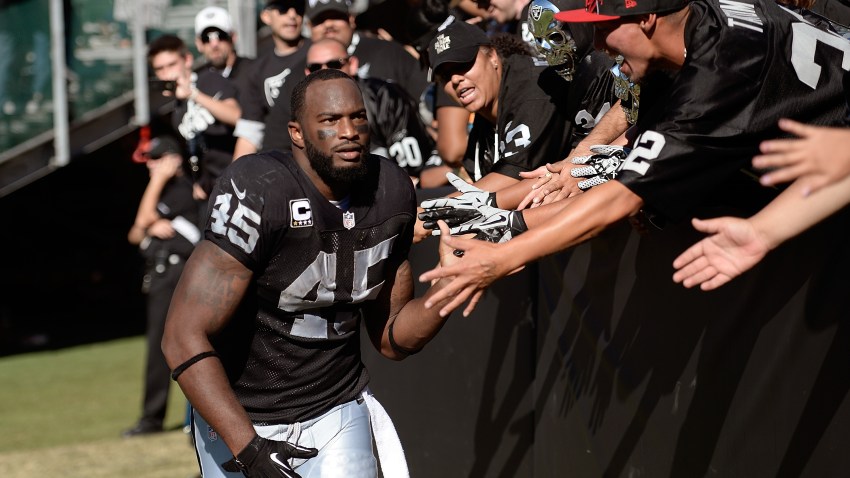 When Raiders general manager Reggie McKenzie met with Bay Area reporters Wednesday, he talked about a variety of topics, including the growth of quarterback Terrelle Pryor.
But somewhat overlooked in his remarks was the comment he made about fullback Marcel Reece.
Reece, who won the team's starting fullback job in 2010, has been a terrific player for the Raiders. He's been selected to the Pro Bowl, filled in as a tailback, is a terrific blocker and receiver and has done everything asked of him since joining the team in 2008 as an undrafted free agent.
The Raiders appreciate Reece so much, they announced last week that they've signed Reece to a three-year contract extension. Obviously, he's a big part of their plans.
But through two games in 2013, Reece is nearly invisible. He's carried the ball just twice and has only one reception.
Yet when he gets his hands on the ball, he makes things happen. His two carries have gone for 15 yards, including an 11-yard touchdown run. His catch was for 9 yards.
So, on a team that needs playmakers, why isn't Reece a bigger part of the offense?
That's what McKenzie was asked Wednesday.
"We're trying," McKenzie said. "We know who our play-makers are."
So, perhaps this is the week the Raiders finally start incorporating Reece into the offense, when Oakland travels to Denver for a Monday night game against the Broncos. They'll certainly need his explosiveness against a team that odds-makers have made 14½-point favorites.
The former college wide receiver has proven to be one of the best receivers out of the backfield in the NFL. Since 2009, he's averaged 10.8 yards per catch, best among all running backs. And last year, while filling in for an injured Darren McFadden at tailback, he averaged 4.6 yards per carry.
With the Broncos' defense focused on stopping Pryor and McFadden Monday night, Reece could be a very dangerous third option. As one writer noted this week, Reece is Oakland's "secret weapon," who often is used to create mismatches against linebackers on passing plays.
Though Reece hasn't yet gotten the ball often this season, it's obvious that sooner or later, he'll start making some big plays. It's what he's done his previous three seasons as a starter, and what he's hoping for over the long term of his contract extension. He didn't want to go anywhere else.
"It's a big step, another big step to being a Raider for life," he told ESPN.com's Paul Gutierrez last week after signing his extension. "Just looking forward to the next few years of continuing to be part of Raider Nation."
And that nation is looking forward to seeing No. 45 with the ball in his hands more often.