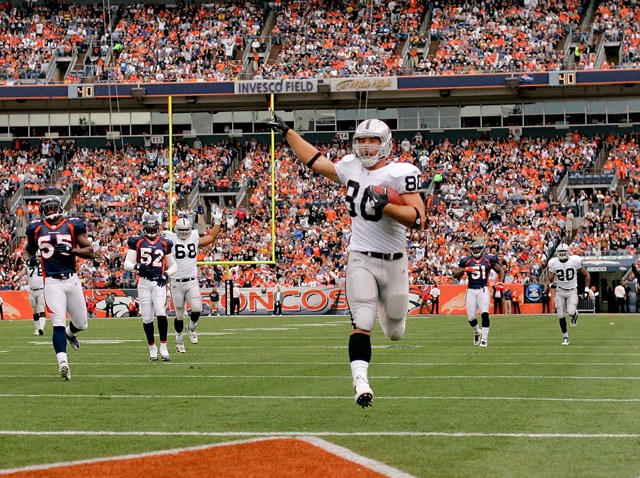 Christmas came a week before Halloween for Raider Nation this year. The Oakland Raiders set a franchise record for most points in a game, annihilating the Denver Broncos in a 59-14 win at Mile High.

People, this game was 31-0 one minute into the second quarter. How can such a thing possibly happen, when the Raiders were seven-point underdogs, on the road, playing at a high altitude?

The Raiders scored their first opening drive touchdown of the this season, going 80 yards in just over four minutes and getting the score on a 43-yard bomb to Zach Miller.

And then it just got easier and easier from there.

Denver's very first play from scrimmage was a pass thrown right to Raiders cornerback Chris Johnson, and Johnson took that baby to the house. 14-0, Raiders.

Then the Broncos fumbled the ensuing kickoff. First down, Raiders, at the Denver 21. Darren McFadden waltzed it in two plays later for a four-yard touchdown, his first of four on the afternoon.
The Raiders were held to "only" a field goal on the following possession. Fifteen seconds into the second quarter, McFadden got a 19-yard receiving touchdown. Another rushing touchdown for McFadden right before the two-minute warning before halftime had the Raiders up 38-0, if you're still counting.
The two teams did go through the motions and play the second half, but it was no longer a competitive football game. Darren McFadden finished with 165 yards and three touchdowns, the Raiders' offense finished with 333 yards rushing and 513 yards overall.
Joe Kukura is a freelance writer who thinks Jason Campbell should play with a sprained knee every week.
Copyright FREEL - NBC Local Media