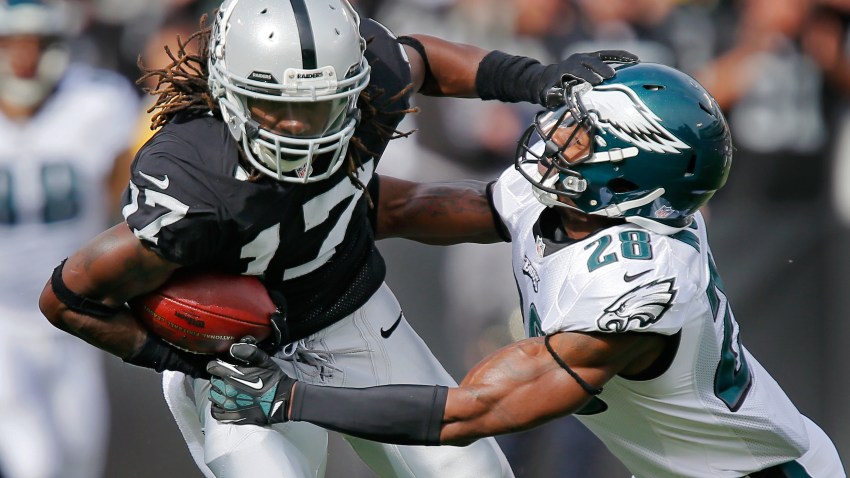 As a rookie, Raiders wide receiver Denarius Moore often looked like a star in the making.
First, he made the roster with a terrific training camp. Then, in just his second NFL game, Moore caught fives passes for 146 yards against the Buffalo Bills, including a spectacular 50-yard touchdown catch.
In 13 games, he went over 90 yards in receiving three times and finished the year with 33 catches for 618 yards and five TDs.
Early that season, Oakland head coach Hue Jackson became infatuated with Moore's game-breaking speed and talent, and said he was one of the keys to unlocking the offense.
"Give it to (No.) 17, Denarius Moore," Jackson said. "Let your players make plays. That's what I'm trying to create here. I'm going to create an environment where our great players can do something special. … Moore is becoming a really, really fine football player."
But as the Raiders prepare for their exhibition opener at Minnesota Friday night, the Raiders are still waiting on Moore to provide consistent production.
After a solid second season, in which he caught 51 passes for 71 yards and seven TDs, Moore regressed in 2013, playing just 13 games and catching 46 balls for 695 yards. His yards-per-catch average has fallen from 18.7 to 15.1.
And when the team released its first depth chart of training camp this week, Moore was ranked No. 3 at one wide receiver slot behind Andre Holmes and James Jones. (Rod Streater, Greg Little and Juron Criner were 1-2-3 on the other side.)
As Paul Gutierrez of ESPN.com noted, "The Raiders are still waiting for Moore, who has been alternately explosive and frustrating in his first three NFL seasons, to be more consistent."
Raiders head coach Dennis Allen acknowledged Moore's inconsistency, but said he still believes Moore has the talent to be an impact player on his offense, and is optimistic.
"I do think Denarius is getting better as a football player, and he has in this camp," Allen told Gutierrez.
But if this Raiders team is going to take a big step forward this season, the offense is going to need playmakers – players to break big gains, avoid mistakes and help quarterback Matt Schaub keep moving the ball. Oakland needs younger players such as Moore and Juron Criner to take some big steps this summer.
The emergence of Holmes may prove to be an obstacle for Moore to earn playing time, however. At 6-foot-4, Holmes is four inches taller than Moore and stronger, and has been terrific in camp. And he came on in a rush late last season, with 25 catches over the final seven games, averaging 17.2 yards per reception. While this Raiders receiving corps doesn't have a bonafide No. 1 wideout, it appears deeper and more talented than in 2013. So Moore will have to show he can make plays to stay with the Raiders a fourth season.
Schaub, for one, has faith in him.
"For a smaller guy, compared to our other receivers, he can still go up and make the high-point of the football and adjust to it in the air," Schaub told Gutierrez. "I think he's a guy that can take those short catches and turn them into big ones with his athleticism."