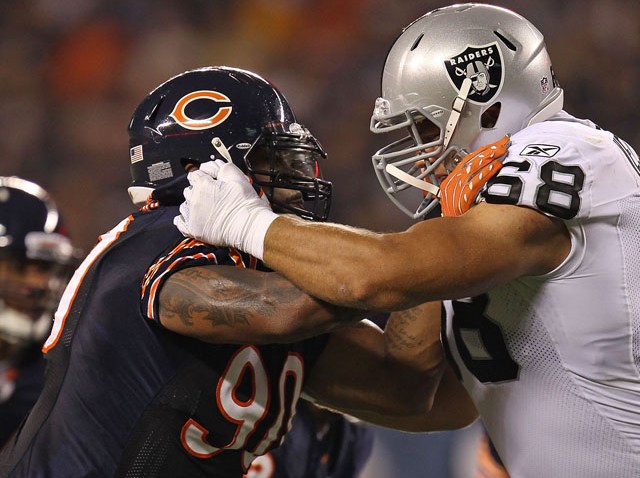 The Oakland Raiders' new starting center doesn't look up to anyone. At least, not anyone who also plays the position of center in the NFL.
The Raiders have promoted rookie Jared Veldheer to start at center against the 49ers, Steve Corkran reports in the Oakland Tribune. Regular starting center Samson Satele injured an ankle in last Saturday's win over the Bears.
But here's a factoid for you, Raider Nation -- at 6'8", Jared Veldheer will be the tallest person ever to start at the center position in the NFL.
So history will be made Saturday when he takes the field. Too bad it won't be on live TV.
There is some debate over whether you want your center to be tall. After all, height often loses leverage battles. Guys are always coached to keep their center of gravity low.
Veldheer isn't buying it. "You're never too big, too small, too fat, too skinny to play anything," he told the Chronicle earlier this month. "If you can play a spot, you can play a spot."
The 49ers' little holdout problem is going to help Veldheer look good. "With 49ers nose guard Aubrayo Franklin deciding not to immediately sign his franchise tender," Steve Corkran writes in the Trib, "The opposition will be the less imposing Ricky Jean-Francois."
And if the tallest center of all time looks good on Saturday, Raider fans may fans might praise coach Tom Cable by saying, "He went to Jared!"
Joe Kukura is a freelance writer who is still teasing ESPN over their Draft Day graphic that said Veldheer had been drafted by the Chargers.
Copyright FREEL - NBC Local Media