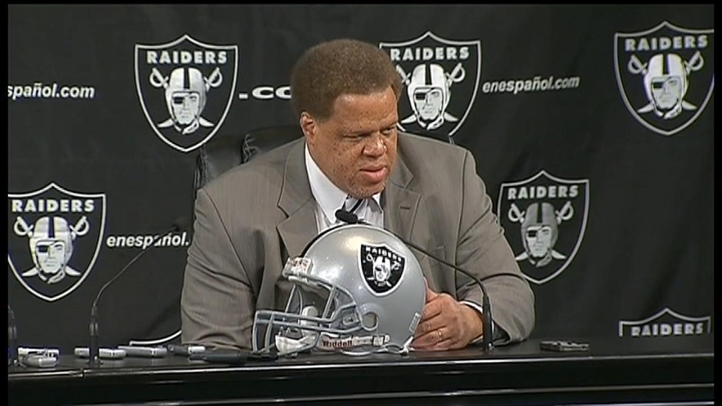 The Raiders are casting a wide net in their search to replace Hue Jackson. New GM Reggie McKenzie will interview two Broncos offensive coordinator Mike McCoy and defensive coordinator Dennis Allen today in Denver. McKenzie already interviewed Miami interim head coach Todd Bowles, and has permission to speak with New Orleans Saints offensive coordinator Pete Carmichael Jr.
The
NFL Network
and
ESPN
report the Raiders want to speak with a couple of former NFL head coaches, as well. Marty Mornhinweg is currently the offensive coordinator in Philadelphia. He was Detroit's head coach in 2001 and 2002. The Chicago Bears' new offensive coordinator, Mike Tice, is also said to be on McKenzie's list. Tice has had that job barely a week after Mike Martz retired. He was the Minnesota Vikings head coach from 2001 to 2005.
Whoever is hired faces a big problem. NBC & Sports Illustrated's
Peter King
points out the Raiders only have half of their 14 draft picks for 2012 and 2013. For example, they traded the 2012 first round pick and 2013 third round pick to Cincinnati to get Carson Palmer.
The team also gave up this year's third round pick to choose Terrelle Pryor in the supplemental draft. Pryor never played in 2011.
Raiders fans probably won't have to stay glued to this year's draft. Unless something changes the Raiders won't pick until the third day.