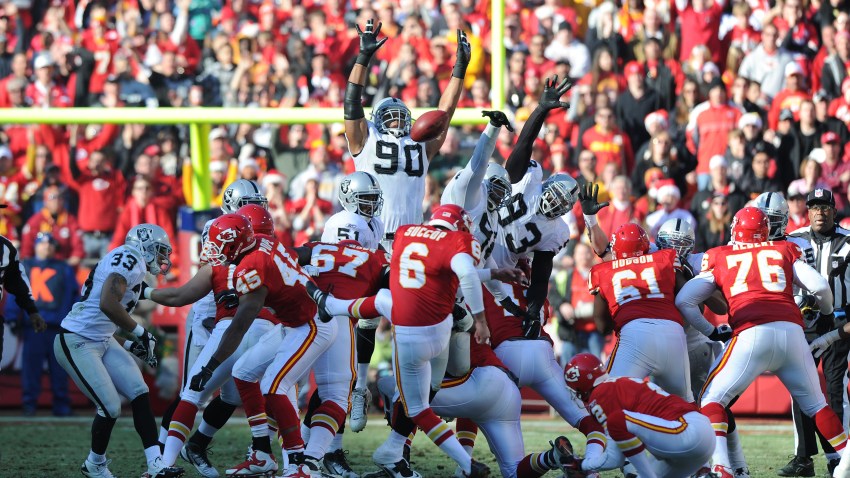 Of course, it wasn't easy.
For the Raiders, it seems, nothing has been easy this season.
But Oakland's 16-13 overtime victory over the Kansas City Chiefs at Arrowhead Stadium Saturday – coupled with the Broncos' loss to the Bills – puts the Raiders back into a tie for the AFC West lead with just one game remaining in the regular season.
The victory, which snapped a three-game losing streak, gives the Raiders an 8-7 record going into their season finale next Sunday against the Chargers at O.co Coliseum. It also keeps them alive in the race for the final wild-card spot behind the 9-6 Bengals.
Saturday's victory at Arrowhead, the Raiders' fifth straight in Kansas City, came on Oakland's first possession of overtime, when Sebastian Janikowski's 36-yard field goal 2:13 into the extra period capped a drive that began at the Oakland 24.
Carson Palmer's 53-yard pass to Darrius Heyward-Bey put Oakland at the K.C. 23, then two Michael Bush runs picked up five yards to the 18, from where Janikowski was called to make the kick on third down to end the game.
Only minutes before, it appeared the Raiders were about to let another game slip away.
Leading 13-6 with 2:57 remaining in the fourth quarter after Janikowski's 31 yard field goal – set up when the Raiders had stuffed the Chiefs on a fourth-and-1 run on their own 43 -- the Chiefs marched 80 yards in five plays to tie the game on Kyle Orton's 3-yard TD pass to Dwayne Bowe.
The Raiders then went three-and-out, punted, and allowed Orton to hit consecutive passes of 25 yards to Bowe and 11 yards to Terrance Copper to reach the Oakland 31 with five seconds remaining, setting up Ryan Succop's 49-yard game-winning field-goal attempt.
But the Raiders' big push through the center of the line resulted in Trevor Scott getting a hand up to block the kick, send the game into OT and keep the Raiders alive in the playoff hunt for another week. It was the second Raiders block of a Succup field-goal try in the game.
For the Raiders, Bush rushed 23 times for 70 yards, and Palmer connected on 16-of-26 passes for 237 yards but was intercepted twice.
Denarius Moore and Hewyard-Bey had big receiving days, with Moore catching four balls for 94 yards – 61 coming on a TD play in the third quarter – and Heyward-Bey making four catches for 70 yards.
Next week, while the Raiders host the Chargers, the Broncos – who now have lost two straight – play at Arrowhead vs. the Chiefs. The Raiders need to win and hope for a Broncos' loss. Should the teams finish tied at 9-7, Denver would advance as division champs based on a better record vs. common opponents.
The Bengals finish by hosting the Baltimore Ravens.