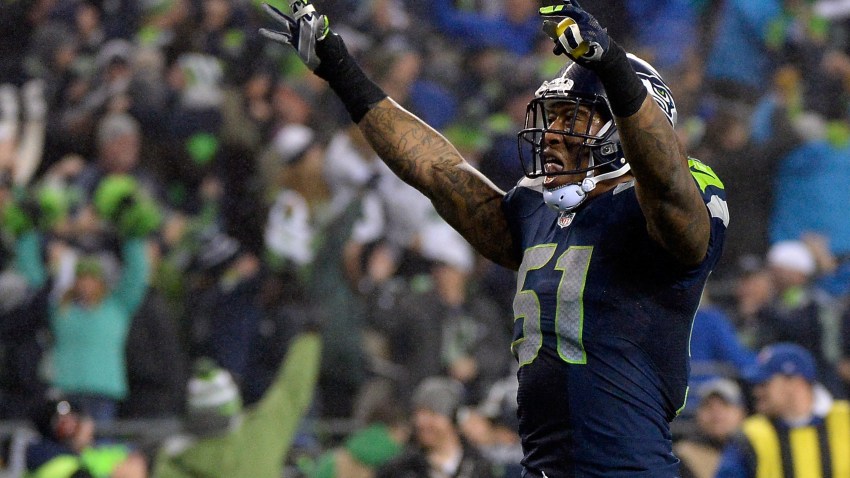 The Raiders have made so many moves in free agency this week that the team, its fans and many NFL observers now see Oakland as a contender in the AFC West in 2016.
By adding lineman Kelechi Osemele, linebacker Bruce Irvin and cornerback Sean Smith, the Raiders have added some high-priced, high-valued talent to a team that already was on the rise.
"It is definitely switching. Clearly," said Smith, when asked Thursday if the power in the division were shifting toward his new team. And, he said, if the Raiders are able to add another piece – such as free-agent safety Eric Weddle, formerly of the Chargers – "This defense could be something special."
Irvin, the former Seahawk, also sees great potential for his new team.
"It's a young team, a young up-and-coming team," he told Paul Gutierrez of ESPN.com. "You can see that the program is really on the up, and turning around."
Jeffri Chadlha of NFL.com wrote after the Smith signing that the Raiders will be "much improved" from the team that went from 3-13 in 2014 to 7-9 in 2015.
"They've got a franchise quarterback who's already blossomed into a star after two seasons," he wrote. "They have a supporting cast of young playmakers with similarly bright futures. They also have a start to this free agency period that suggests this long-struggling franchise has a plan that could pay huge dividends in the near future."
While the Raiders appear to have improved themselves in key areas, the Super Bowl-champion Denver Broncos and Kansas City Chiefs have lost some impact starters. On paper now, Oakland appears much stronger – and more free-agent moves and the draft are still approaching.
But Osemele, for one, doesn't want to start thinking an improvement is automatic.
"This is the NFL," he told the media Thursday. "You never really know how things are going to turn out in the end when the roster is all said and done." He added that the new and the old on the roster will have to come together, "build chemistry and go out there and execute on Sundays."
And Jason McIntyre, who writes for the website The Big Lead, cautioned fans all over the country that just because their team "won" free agency, it doesn't necessarily equate to success. He points out that the Colts and Eagles spent big in free agency in 2015 and missed the playoffs, and each season many teams that bring in star players fall flat.
Still, even McIntyre believes Oakland is suddenly much improved.
"If Derek Carr improves a bit and if there's no sophomore slump for Amari Cooper and if Latavius Murray can stay healthy … why can't the Raiders win the division?" he wrote. "The Broncos have lost a ton."