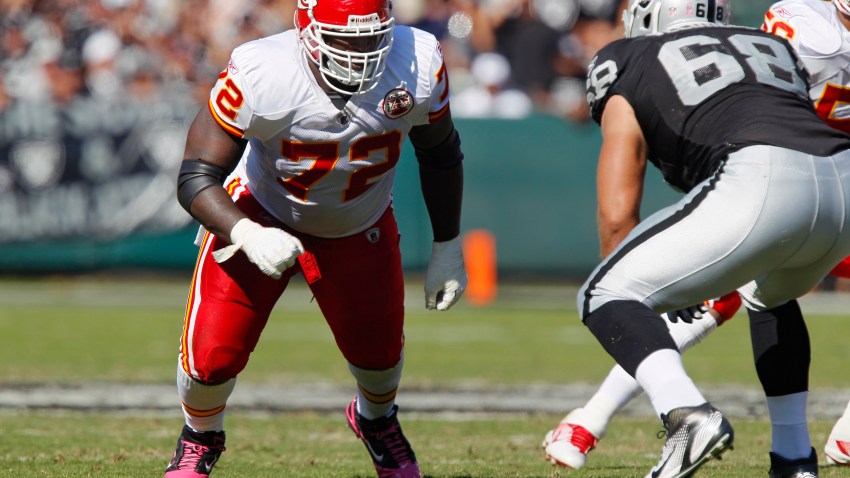 Are the Raiders running the risk of losing Jared Veldheer?
From the outside, it would certainly seem so.
Oakland general manager Reggie McKenzie decided not to put the franchise tag on Veldheer, the team's starting left offensive tackle, or defensive end Lamarr Houston this week. The deadline for placing those tags was Monday.
So, it appears the Raiders run the risk of having Veldheer – seemingly a building block of an offense in need of a strong foundation – hit the free-agent market next week and be signed by another team.
Though McKenzie says he still wants to keep Veldheer and would rather negotiate a long-term deal with the tackle than keep him for another season via the franchise tag, it's a puzzle as to why the two sides haven't been able to finalize any kind of deal so far.
After all, back in early February, Veldheer told the media he wants to stay in Oakland, but had hoped the pace of contract talks would pick up.
At that time, Veldheer said he wanted to stay a Raiders and believed the team wanted to keep him but "a little bit of urgency from the other side would be nice."
"It's tough when that kind of stuff happens (no contact and slow negotiations), because it goes against everything that's been said about being a cornerstone of the team that (they're) going to build around," Veldheer said. "It doesn't back up those words with the right action. Right now it's kind of, not at a standstill, but there's not a lot happening. I think that we need to move things on a little quicker."
Now it's more than a month later, and Veldheer and the Raiders still don't have a deal – yet last week signed veteran lineman Khalif Barnes to an extension.
For Raiders fans, it must be a head-scratcher. The team is in need of so many upgrades, yet has a tackle in place and has the salary-cap room to cut him a new deal. If Veldheer were to hit the open market next week, another team might swoop in to grab him – and suddenly Oakland would have to find another option or pay much more to keep him.
Jerry McDonald of the Bay Area News Group reported that the franchise tag on Veldheer would have cost the Raiders $11.6 million. The free agency period opens March 11, but free agents can begin negotiating with other teams Saturday, according to McDonald – which could drive up the price.
That leaves the Raiders just a couple of days to get something done with Veldheer and Houston. It seems like an unnecessary risk to wait this long to get something done.