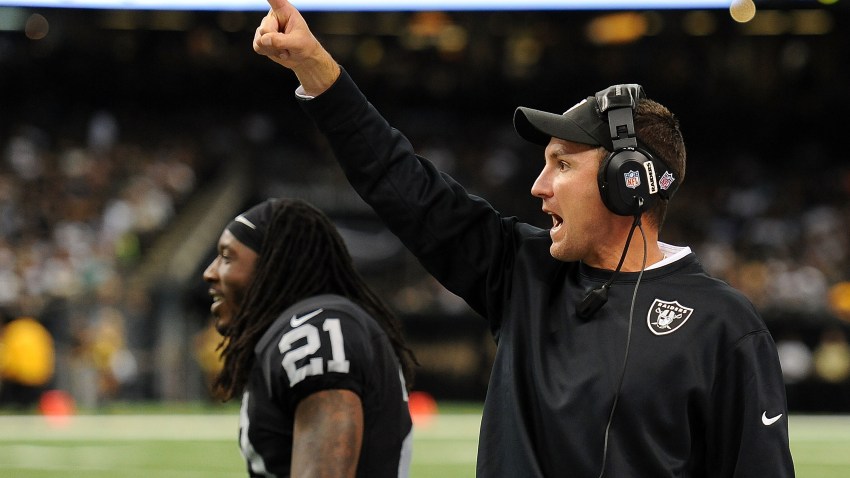 Menelik Watson's first training camp hasn't quite gone as scripted.
The original plan was for the Raiders to work with their second-round draft choice through camp, patiently coach him up on his fundamentals and give him plenty of reps in games to polish his raw, physical tools. By the end of camp, he'd be ready to work as the "swing tackle" filling in across the offensive line. As the season progressed, he'd likely get better and earn more playing time, then challenge for a starting job in 2014.
But that script had to be torn up when a calf injury sidelined the big rookie from Florida State.
He missed almost every practice until his recent return, and hasn't yet appeared in any of the Raiders' three exhibitions. Then, when starting left tackle Jared Veldheer was lost with a partially torn triceps – and free-agent veteran Alex Barron faltered as his replacement – Oakland suddenly needed Watson. Right now.
So, as the Raiders head into their final exhibition game of the summer Thursday night against the Seahawks in Seattle, big No. 71 – with the calf injury now behind him – will get the start at left tackle and is expected to play a majority of the game.
It will be his pro debut at a new position (he played right tackle at Florida State), in a loud, hostile environment against a very good defense.
As Raiders offensive coordinator Greg Olson said Tuesday, it will be Watson's "baptism by fire."
Oakland head coach Dennis Allen said Watson is one of three players who will get extended playing time against the Seahawks, along with quarterback Terrelle Pryor and rookie cornerback D.J. Hayden. Allen said the Raiders need to see what they have in Watson.
Watson played just one season at Florida State after just one previous season of football at Saddleback College in Southern California. He's a 6-foot-5, 315-pounder from Great Britain who played soccer, boxing and basketball (at Marist) before trying American football. He's considered a terrific athlete, but his techniques need work and he's never played left tackle – a key position as the blind-side protector of the quarterback.
That's why Allen wants him to play much of the game Thursday.
"He hasn't taken a snap in a game situation and he needs all the work he can get," Allen told Bay Area reporters Tuesday.
Offensive line coach Tony Sparano told Jerry McDonald of the Bay Area News Group that one thing Watson has in his favor is the switch from right to left tackle may not be as big a move for Watson as for a veteran because he doesn't have so many habits.
But the Raiders need to start him against Seattle's first unit and leave him in so they can see if he's ready to open the season as Veldheer's replacement on Sept. 8 against the Indianapolis Colts.
"The only way we're going to get the evaluation is to let him play," said Sparano.
Watson isn't fazed. He's ready.
"I'm the type of person, if you tell me to do something, I'm just going to do it," Watson said.
The Raiders need Watson to surprise them. The loss of Veldheer has been huge, and the offensive line in his absence has been overrun by defenses. Quarterbacks Matt Flynn and Pryor have been under constant pressure.
So, Allen – who loves Watson's potential -- will throw him into the fire Thursday and see how he reacts.
"I feel like that's the right thing to do," Allen told the San Francisco Chronicle this week. "Put him over there and see how he does in the game. We won't know until we put him in a game and get a chance to evaluate him. We haven't had that opportunity yet."