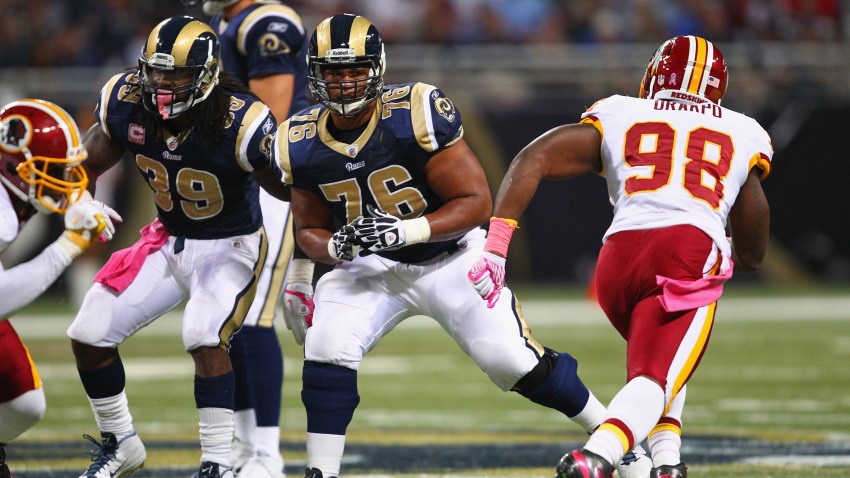 Unless there's a big change over the next 24 hours, it appears the Raiders and their fans will soon be saying goodbye to left offensive tackle Jared Veldheer.
Tough Veldheer, 26, said he wanted to remain and the Raiders GM Reggie McKenzie said he wanted to re-sign him, multiple reports have several teams coveting Veldheer and eager to sign him.
The Baltimore Sun reported that Veldheer is expected to sign with the Arizona Cardinals when the free agency period officially opens Tuesday at 1 p.m. (PDT).
So how will the Raiders fill the team's gaping hole at the left end of the offensive line?
Apparently McKenzie has been busy this past weekend, contacting potential free agents, including Eugene Monroe, whom Paul Gutierrez of ESPN.com calls the top left tackle on the market. Monroe, who played this past season in Baltimore after four seasons in Jacksonville, was still talking with the Ravens about returning, reported the Sun, but is also a player of interest for the Raiders.
In addition, the Sun reports the Raiders are expected to sign Rodger Saffold, the former St. Louis Ram who also has been negotiating with the Tampa Bucs. The Sun reported the Raiders have a deal in place with Saffold for about $8 million per year.
If Veldheer indeed is gone, Monroe and Saffold would be quality replacements.
Saffold, 25, was a second-round pick in 2010 and has made 44 starts for the Rams and has played both tackle spots and guard.
This past season in St. Louis, Saffold was moved from left tackle to right tackle make room for free agent Jake Long, then was hurt and moved to right guard when he returned to the lineup.
It's uncertain if Saffold would play tackle or guard if acquired by the Raiders.
Monroe would actually be an upgrade over Jeldheer, but probably a more expensive one. Monroe is Veldheer's age (26) and is 6-foot-5 and 306 pounds, the former No. 8 overall pick in the 2009 draft.
According to the Around the League rankings of NFL.com, Monroe is the top offensive lineman in free agency and the No. 2 impact free agent overall, behind Bills safety Jairus Byrd.
The rankings' synopsis of him: "Of all the offensive linemen available, Monroe offers the best mix of age, talent and demonstrated production in both the running and the passing game."
It would be a good recovery for McKenzie, should Veldheer indeed be signable, but a big curveball in that both Veldheer and the Raiders wanted to work something out, but were unable to do so – perhaps not a good sign for retaining the other top-tier Raiders free agent, defensive end Lamarr Houston.