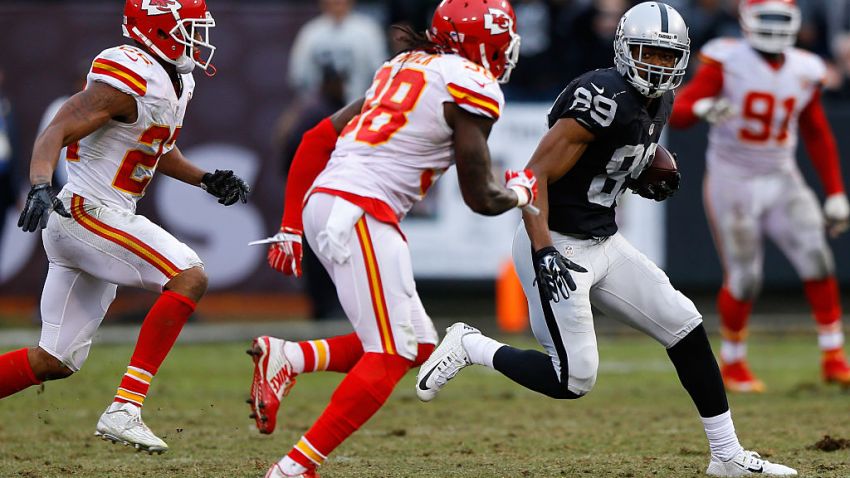 There's no question that Amari Cooper's rookie season was terrific.
The Raiders wideout played 16 games, caught 72 passes for 1,070 yards, averaged 14.9 yards per reception and had six touchdown catches.
After one game against the Chargers in October, when Cooper had five catches for 133 yards and a TD, Raiders quarterback Derek Carr lauded Cooper.
"He's amazing, he's awesome and he's one of the best in the league," Carr told a reporter. "Obviously because he's a rookie and hasn't done if for a certain amount of time people won't say that, but he's one of the best."
But a foot injury late in the season limited Cooper's effectiveness. His production plummeted in the final month. The wide receiver wouldn't say how much it hurt him until Monday.
In an interview on 95.7 The Game, Cooper said he "really wasn't myself" once he hurt his quadriceps in November and then injured his foot in December.
"I think it affected everything," Cooper said. "Me being a receiver, it affected my whole game. Talk about a foot injury, you can't release how you want to, you can't come out of your breaks how you want to. You can only get open in two ways, off of the line or out of your breaks. So it really affected my game, but I was mentally tough and I fought through it."
After an offseason to recover, Cooper is 100 percent fit and ready for his second season. He's looked very good in training camp so far and believes he can be a much better player in 2016.
"I feel a lot more comfortable, you know I know the mistakes I've made," he said. "I know what the coaches expect out of me and I know what my teammates expect out of me, so everything seems good right now."
Cooper and his teammates will play their first exhibition game this Friday night against the Arizona Cardinals.