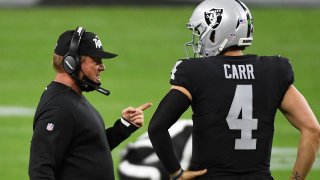 Carr, Gruden explain Raiders' oddly-phrased audible calls originally appeared on NBC Sports Bayarea
Social media users have been having a field day trying to figure out what some of Derek Carr's more obscure audibles mean since they can be heard so clearly with no crowd noise.
It might be a futile task.
The Raiders quarterback, and his coach Jon Gruden, said Wednesday the silly words and phrases are often just dummy calls. Gruden described it as being similar to a baseball third-base coach, who goes through all sorts of gesticulations only to have an indicator sign that triggers a baserunner to know when to really pay attention.
Copyright RSN