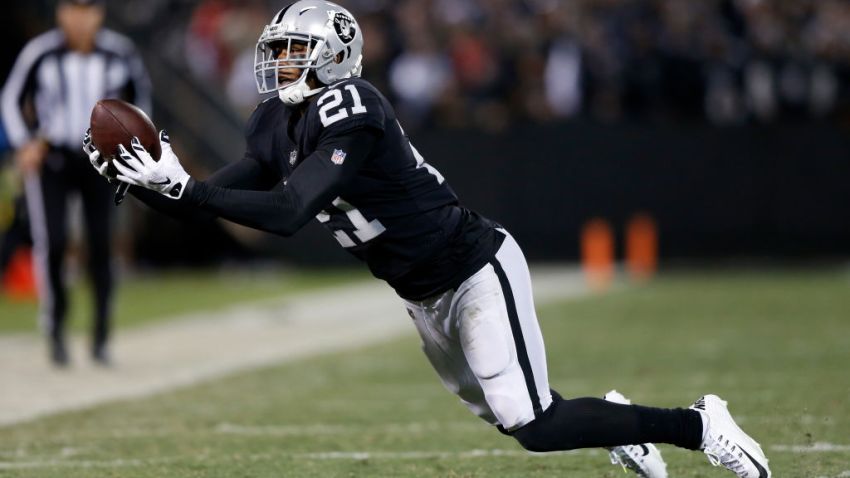 It was reported this past weekend that Raiders general manager Reggie McKenzie told free-agent cornerback Richard Sherman that Oakland didn't have the salary-cap space to sign him.
Now, with Sherman gone (to the 49ers) and the Raiders entering the free-agency negotiating period, McKenzie has washed some money off the team's ledger to create more flexibility.
The Raiders have released cornerback Sean Smith and starting right tackle Marshall Newhouse, creating an estimated $10.75 million of additional salary-cap space, reports Paul Gutierrez of ESPN.com.
That gives the Raiders a little more than $27 million of cap space, reports Gutierrez. That's still not a lot for what the Raiders certainly would like to do, but it's better. Plus, the team could make more moves to further reduce payroll.
By releasing Smith, the Raiders save about $8.5 million in 2018, while also losing a player who was the team's best corner over the second half of the season. Smith, who lost his starting job early in the year and was inconsistent in 2016 as well, allowed a passer rating of just 36.3 over a five-game span late in the season, which ranked eighth in the NFL among cornerbacks with at least 110 snaps in coverage, reported Pro Football Focus.
Newhouse, meanwhile, was seen as a weak link on the offensive line by new head coach Jon Gruden.
"We had some inconsistency at right tackle, obviously," Gruden told reporters." Newhouse, he had his moments when he played well. He had some moments where he obviously struggled."
McKenzie and Gruden now have the task of finding another cornerback to start alongside second-year man Gareon Conley — the team's top pick in 2017 — and a starting right tackle.