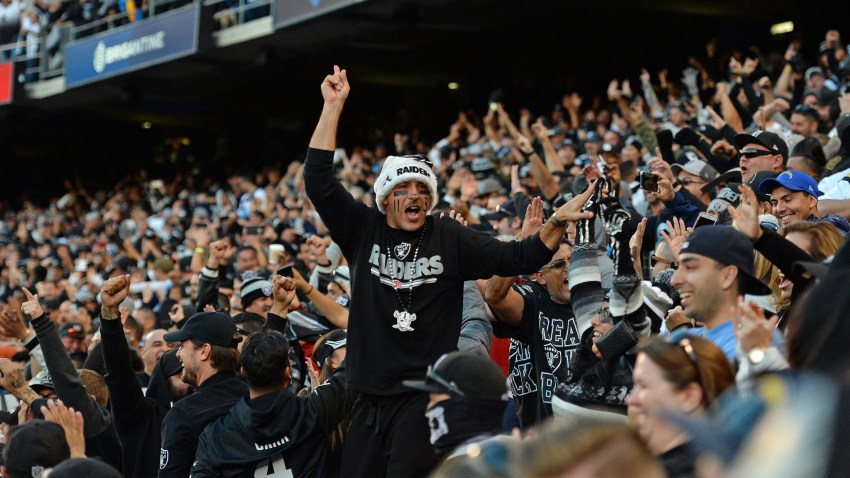 LOS ANGELES – The Raiders play loud music or crowd noise while their offense practices for an away game. That's standard practice designed to prep for a hostile crowd trying to disrupt offensive rhythm.
The Raiders defense went through a similar experience this week, because Sunday's clash with the Chargers is a home game away from home.
A pro-Raiders crowd is expected at the Chargers' StubHub Center in Carson, located in a Los Angeles market the Raiders have dominated for decades. Raider Nation should be the dominant force on Sunday, trying to ruin the Chargers' day.
The Silver and Black developed a loyal following while playing in Los Angeles from 1982-94.
They're probably still L.A.'s favorite despite the Rams moving back there in 2016 and the Chargers relocating north from San Diego.
Sunday will be a big moment for local Raiders fans, who can watch their team play in L.A. for the first time in 23 years.
"It's pretty awesome," Raiders head coach Jack Del Rio said. "That's what's being predicted. We'll see what happens on gameday. We're prepared. We actually made it loud with music on both sides. Regardless of how it plays out, we're ready to roll."
The Raiders regularly blacked out Qualcomm Stadium while playing the Chargers in San Diego, the closest spot to catch the Silver and Black.
Raider Nation overwhelmed Chargers fans in 2016 – the Silver and Black were rolling and the Bolts were bad and strongly considering L.A. – owning at least three quarters of Qualcomm Stadium seats.
A similar ratio is expected on Sunday in the small StubHub Center. Chargers ticket officials have reportedly told football operations to prep for a hostile environment.
"We do get a lot of opposing team fans at the StubHub," rookie Chargers head coach Anthony Lynn said. "I'm sure with the Raiders coming back for the first time in 20 years, I'm sure they will have a lot of their fans there. A lot of their fans are still here. Fans don't play, so we have to prepare and get ready to go out and play against the Oakland Raiders and we don't worry about the fans."
The Raiders are worried about finishing strong despite being eliminated from the playoffs. Players and coaches cite plenty to play for in this rivalry game, and it's not playing spoiler. They want to close a disappointing regular season well and impress decision makers with tough choices ahead this offseason.
"Changes can be made at any time in this league," middle linebacker NaVorro Bowman said. "In the position we're in, you don't want to put any bad film out there."
Copyright CSNBY - CSN BAY