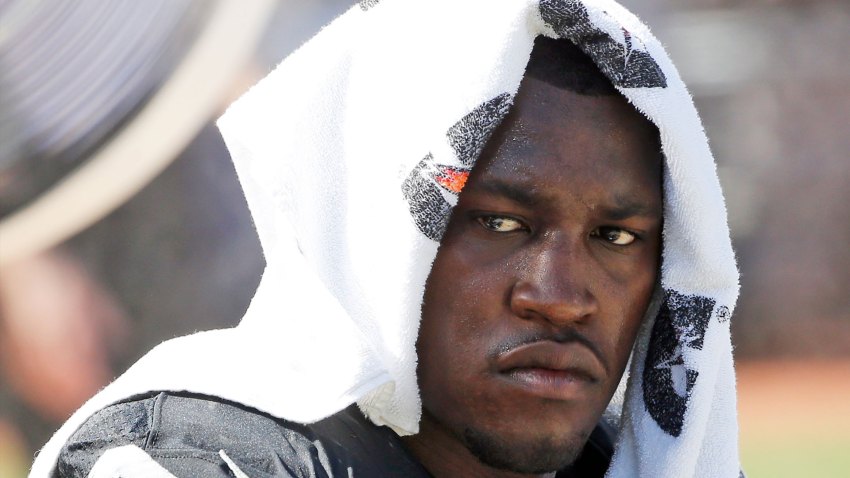 UPDATE: San Francisco Police have obtained an arrest warrant for former Raiders and 49ers edge rusher Aldon Smith in connection with a Saturday domestic violence incident., according to sister station NBC Bay Area. Police alledge that Smith committed misdemeanor domestic violence, assault with intent to cause great bodily injury, false imprisonment and vandalism. Smith was identified as the suspect in an incident invovling his fiancee, where he fled the scene before police arrived. Smith checked into rehab Monday, but Smith's lawyer is negotiating for his client to turn himself in to police.
****
Aldon Smith's name has been on the Raiders roster a long time now. It was tucked away at the bottom, under the headline "reserve/suspended." He was on that list, away from the team that offered a second chance after the 49ers released him, far longer than he was ever an active member of the organization.
Smith played just nine games in silver and black before getting banished indefinitely as a repeat offender of the league's substance abuse policy. Ties remained even during 27 months away from football, thanks to a two-year contract signed in early 2016 that would start when/if he was reinstated.
That time will likely never come. Smith had continued run-ins with the law during his time away from the NFL, when strict adherence with the league substance abuse policy is required for reinstatement. The latest came Sunday, when San Francisco Police said they considered him a suspect in a Saturday evening domestic violence incident where the victim suffered non-life threatening injuries and Smith fled the scene.
Smith checked into rehab on Monday, Smith's fiancée said in an interview with TMZ.com. She also admitted to being the victim in the domestic violence incident.
The Raiders finally had enough. They released him on Monday, severing ties with a player who didn't contribute much in 2015 and nothing after, outside some unflattering press. The Raiders were committed to helping him however they could, though the NFL wouldn't allow direct contact with anyone outside the player engagement director.
The Raiders weren't counting on Smith in 2018. They didn't expect his return last year. They thought he would come back in Nov. 2016, when he was eligible for reinstatement following a mandated year away from the game. Smith felt the same. He worked into great shape, but a call from the commissioner never came. Roger Goodell didn't evaluate his application during the 2016 season, saying he would look at it in March 2017.
Things seemed to unravel after that.
Police interviewed Smith regarding a domestic dispute in Feb. 2017. That's no crime, but it wasn't a good look. Then, the next month, he was the passenger in a car that hit and unmarked police vehicle. The driver was charged with DUI and Smith was detained for public intoxication, further distancing himself from a return.
This latest domestic violence incident, technically speaking, could put him in line for suspension under the personal conduct policy even if his substance abuse issues were fixed in the NFL's eyes. In practical terms, it will keep him out of the league indefinitely.
The Raiders retained ties to Smith in hopes they could help get his life together.
"We're going to be with him until he gets his life in order … or until he doesn't," McKenzie told The Athletic in September. "If he tells me that he is not going to try anymore, then we'll move on. As long as he is trying, he will stay on the roster."
That period has ended, a new and harsh reality for an immensely talented player with a long rap sheet, well-documented struggles with alcohol and significant work ahead getting his life in order.
Copyright CSNBY - CSN BAY