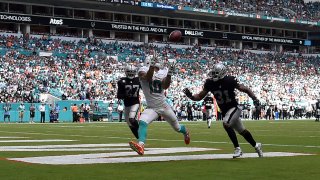 KANSAS CITY, Mo. – The Raiders had dreams of making the postseason this year. They were in the wild-card mix with an opportunity to sit atop the AFC West with four games to play.
A victory over Kansas City on Sunday would've put them in prime position for a playoff push. This was the biggest game of the season, and the Raiders knew it. They knew how important it was to play well here against their division rival.
That didn't matter. They were awful in a disastrous, disheartening 40-9 loss to the Chiefs here at Arrowhead Stadium. This is undoubtedly the Raiders' house of horrors.
They fell two games back in the division with four to play. They're a game behind in the wild-card race, likely needing to win out to have a chance to make the playoffs.
Everything that could go wrong did. They were penalized heavily. They committed three turnovers. They got blown out, proving the Raiders are not ready for a serious postseason run.
Here are three takeaways from a terrible, no-good, very-bad loss to the Chiefs:
Derek Carr has another nightmare day at Arrowhead
The Raiders quarterback has played at Arrowhead Stadium six times now. He has never won here. He has never played well.
Sunday's showing, however, may have been the worst. He was ineffective in 2016 when the Raiders also had a chance to control the AFC West. He wasn't accurate that freezing day in Kansas City, but he didn't throw any picks.
He did Sunday.
His line: Carr completed just 20-of-30 passes for 222 yards and one touchdown. He threw two interceptions, including a pick-six that put the Chiefs up 21 points late in the first half.
Carr was sacked twice. His passer rating: 71.8
In a word, yikes.
His receivers rarely were open downfield – that position group needs another offseason overhaul – but Carr didn't throw them open or create any sort of offensive rhythm through the air. Josh Jacobs was running so well that a little offensive balance would've gone a long way in making this game competitive.
That was never, ever achieved. Carr wasn't good on a day where his team needed him to be steady and efficient. He heard all week about how bad he was in KC., and playing in cold weather – even former Raiders head coach Jack Del Rio said so on social media – and Carr did nothing to disprove those claims. These Chiefs feature a middle-of-the-road pass defense that Carr couldn't dissect.
While football's a team game and this loss isn't all on Carr, the well-paid signal-caller will bear the brunt of the blame for a disastrous performance that severely hindered chances to win the AFC West for the first time since 2002.
Raiders' offense has fallen on hard times
Jacobs ran roughshod over a bad Chiefs defensive front. The first-round draft pick had 104 yards on 17 carries.
That's the only good thing that has happened for this Raiders offense in a long, long time.
The Silver and Black simply can't score.
Derek Carr scored on a 3-yard touchdown run in the second quarter of a victory over Cincinnati. The Raiders didn't cross the goal line for more than nine quarters.
Derek Carrier's garbage-time touchdown snapped the streak, but it was a meaningless effort.
When the game actually mattered, the Raiders offense did nothing. Absolutely nothing.
That scoring drought has been a killer. Carr has been bad. Oakland's receivers have been worse. This downturn is ill-timed, and likely took the Raiders out of postseason contention. This unit looks far different than the one that scored at least 24 points for six consecutive weeks and ultimately is to blame for the Raiders falling flat during a two-game losing streak where they have been outscored 74-12.
[RELATED: Jacobs becomes first Raiders rookie to eclipse 1,000 yards]
Penalty killers
The Silver and Black entered Sunday's game near the top of the NFL's lists for penalties and penalty yards. They'll be vying for first in both categories after this loss to the Chiefs. The Raiders were their own worst enemy in this game, totaling 12 penalties for 99 yards.
The Raiders got three third-down stops negated by penalty, only to have the Chiefs score a touchdown just a few plays later. Clelin Ferrell's offsides call helped the Kansas City score their first touchdown, and Nevin Lawson's defensive holding infraction extended a drive that concluded with Mahomes' touchdown run.
Gruden will be particularly upset over countless pre-snap penalties, showing the Raiders lacked the discipline required to win a game in Kansas City. Most of the defensive flags simply were unnecessary, though holds and a false starts hurt the offense as well.
The Raiders even had an interception taken away. Trayvon Mullen's pick was reviewed, and officials determined that he committed pass interference before the takeaway and the call was reversed. Retroactively applied pass interference. You can't make this stuff up.
Frequent flags are nothing new for this Raiders team, but they were particularly harmful during a game where a lot had to go right to emerge from this game with a win. All those penalties played a significant role in a contest where everything went wrong.
Copyright C