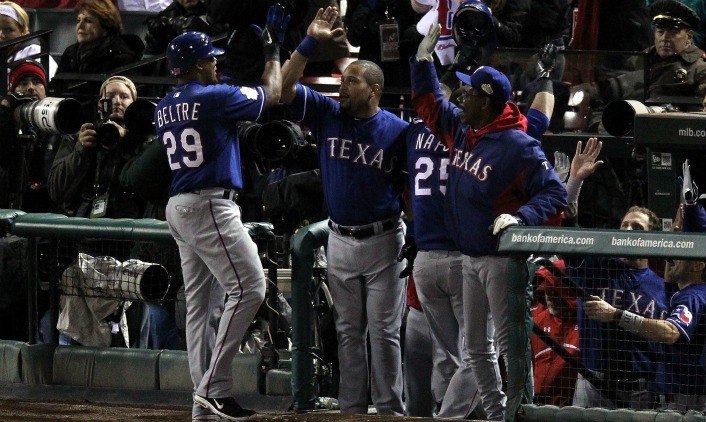 The Rangers fell behind to the Cardinals 1-0 in the World Series opener on Wednesday night. All's not lost of course, as Texas has plenty of talent on both offense and defense.
But maybe if they're feeling down, they can look to the Giants for inspiration. Again.
Yes, the Rangers, beaten soundly by your San Francisco Giants in the 2010 World Series, used that loss to bounceback and become the AL Championship-winning team they were in 2011. Or so they say.
"We've definitely grown from that," said pitcher Derek Holland, via Chris Taft of MLB.com. "[The Giants] outpitched us. They played really good ball and we just didn't live up to our standards. We felt like we let ourselves down and our fans down. We know what we have to do now."
It probably didn't hurt that the Giants ended up celebrating on the Rangers field either -- losing in just the fifth game at your home ballpark would absolutely leave a sour taste in one's mouth.
"A lot of us sat in the locker room after Game 5 against the Giants, and we were really upset," said C.J. Wilson before starting Game 1. "We're like, this is not how we wanted it to go.
"The sting of losing last year is what carried us through the offseason and helped us take it to the next level, I think, in a lot of ways."
Two thoughts about how this relates to the Giants: one, I don't think San Francisco lacked motivation as a result of winning. The Giants played hard this season regardless of what was sitting in the trophy room from 2010.
Eventually, attrition and injuries just caught up to the team and they weren't able to sustain the same success from 2010 in the following year.
And secondly, it's a lot better have won and then lost, then to have never won at all.