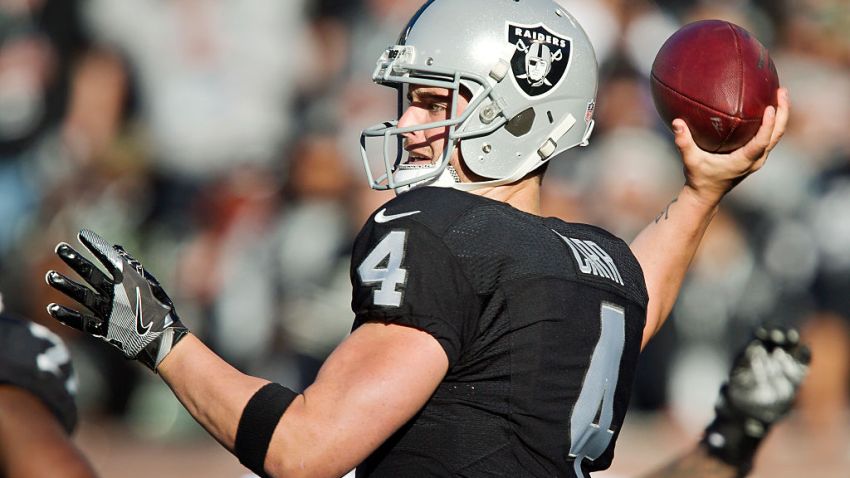 Raiders quarterback Derek Carr reportedly is not pleased about the lack of progress this offseason toward a new, long-term deal with the team.
General manager Reggie McKenzie had said earlier this year that one of his goals before this coming season was to work out a long-term deal with Carr, who's grown into the franchise quarterback Oakland had been seeking for years. And Carr, too, was eager to get a deal done.
But according to Michael Silver of NFL.com, Carr and the Raiders have not had any "significant communication" for several weeks and Carr has become unhappy about it.
Tim Younger, Carr's agent, told Silver "there is nothing new to report."
"Two sources said Carr, given his previously stated desire to be a 'Raider for life,' has grown frustrated with the slow pace of discussions and is extremely eager to get the deal done before the start of training camp," wrote Silver Tuesday night.
Jerry McDonald of the Bay Area News Group reported McKenzie has declined comment on the matter because it is an ongoing negotiation with Carr.
McDonald noted Carr is due to be paid $977,519 this coming season, and an extension is expected to pay him somewhere in the neighborhood of $24 million per year, comparable to a deal between quarterback Andrew Luck and the Indianapolis Colts.
The Raiders have about $32 million under the salary cap for 2017, according to McDonald, which should be enough to get deals done with Carr, starting guard Gabe Jackson and the recently drafted class of rookies.
The Raiders will open training camp in late July. Wrote Silver: "From Carr's perspective, that gives the two sides a month and a half to get the deal done – and increases the urgency to resume discussions."