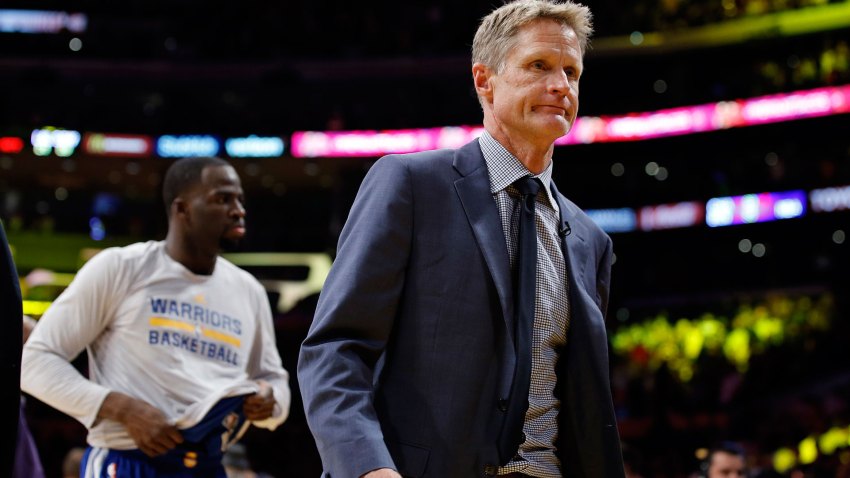 LOS ANGELES – The clues of danger and disorder started dropping early Friday night and kept coming until the Warriors were sliced and diced beyond recognition.
The NBA championship favorites generally looked unprepared, uninspired and profoundly distracted in a 117-97 loss to the Lakers, who for crying out loud will be considered overachievers if they get to March with the slightest chance to make the playoffs.
"We kind of coasted into the game," forward Kevin Durant conceded.
"Our defense was bad, our offense had no flow," Warriors coach Steve Kerr said. "So, pretty lousy night all the way around."
Where to begin? Why not the 15-point first quarter, on 28.6-percent shooting, providing perfectly dreadful symmetry for the eight turnovers in those 12 minutes.
"I just don't think we had the focus level that you need to have to win a lot of games in this league," forward Draymond Green said.
[POOLE: Instant Replay: Curry's 3-point streak ends, Lakers shock Warriors]
There was Lakers backup center Tarik Black throwing down one lob pass, and then another. Starting center Timofey Mozgov, perhaps emboldened by Black's startling uprising, did exactly the same thing.
There was Lakers backup forward Larry Nance Jr. – who made every shot he took – rising high above David West for a slam that made the veteran look overmatched.
"They're playing with house money," Durant said of the Lakers. "They're coming out, playing loose, playing the game, playing together, playing with energy and feeding off their crowd. They came out and hit us in the mouth."
Did we mention the missed defensive assignments, or the pounding on the glass, or the fact that LA bench – its bench – scored only 3 fewer points than the Warriors starters?
"It was just one of those nights when nothing really went our way," Curry said.
"I don't think we competed from the start like we needed to," Green said. "And once we started to compete, it was too late."
The Warriors trailed by as much as 12 in the first quarter and by 19 in the second. They rallied several times in the third quarter, getting as close as six (87-81) with 1:39 left in the third.
But each time the Warriors threatened, Luke Walton's Lakers muscled up or made the Warriors pay for their mistakes.
"We cut the lead in half, got six or seven wide-open threes we missed and our body language was bad going back (on defense)," Durant said. "We can't let that affect our defense."
Perhaps the most disturbing sight was that of Klay Thompson missing open shot after open shot, throwing passes to nowhere, beaten repeatedly on defense and slogging through perhaps the worst game – at both ends – since his rookie season.
Thompson was 4-of-18 from the field, 2-of-10 beyond the arc. His season of futility continues.
It was only natural, then, that Stephen Curry, the league's preeminent 3-point marksman, failed to splash a trey for the first time in 103 weeks, covering 158 regular-season games.
"It was a cool little ride," Curry said, allowing himself a slight grin. "I would have love it to finish my career making one every game. But, hey, start a new one."
A streak the Warriors would love to generate is beating the Lakers at Staples. This makes the fourth consecutive season they've come into LA to face a decided underdog home team and left town with bruises.
"We talked about it because we've been in this situation," Curry said. "This is the third (actually fourth) straight year where we've come down here and dropped the ball, laid an egg. We didn't want to let it happen again. But it did."
That understates what took place Friday night. Asked what part of this shellacking at was hardest to watch, Kerr neither blinked nor lied.
"All 48 minutes," he said.
Copyright CSNBY - CSN BAY