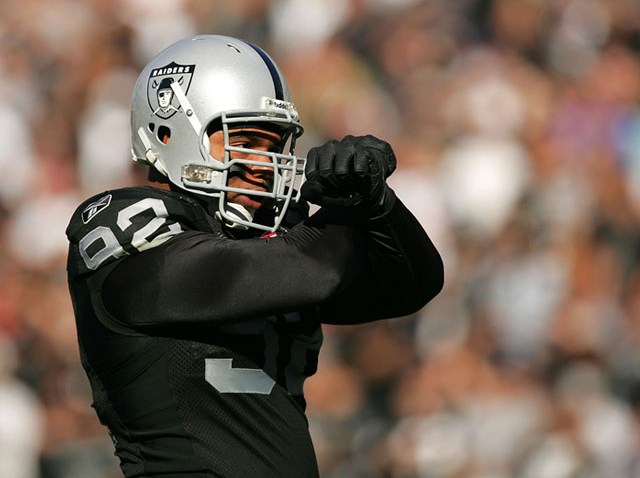 Richard Seymour became the most prominent potential free agent to sign a contract before a possible lockout next month when he finalized a $30 million, two-year deal with the Oakland Raiders on Thursday.

With the current labor deal expiring March 3 and a chance of a lockout after that, there has been little action regarding possible free agents beyond teams using their franchise tag designation.

But the Raiders and Seymour went ahead with the deal that includes $22.5 million in guaranteed money for the defensive tackle and allows the team to save the franchise tag designation for another player.

"I'm thrilled to be with the Silver and Black, a team that has a bright future," Seymour said in a statement. "As I mentioned many times before, I see myself retiring a Raider."

The Raiders gave New England a 2011 first-round pick for Seymour before the 2009 season and owner Al Davis made it a priority to keep Seymour.

Seymour got about $12.4 million last season as an exclusive franchise player and would have been in line for a salary of about $14.9 million next season if he had been tagged again.

New England will get the 17th pick in April's draft as compensation for Seymour after the Raiders finished 8-8 for their first non-losing season since 2002.

"This is a positive for the Raiders and his re-signing was something that the organization knew would be in play when making the move several years ago," coach Hue Jackson said. "Richard is an important part of our team and he continues to be highly productive and a major contributor both on and off the field."

Seymour was selected to his sixth Pro Bowl last season, recording 5½ sacks and anchoring Oakland's defense after moving inside to defensive tackle. Seymour was praised by coaches and teammates for his play as well as his leadership on a unit that included two rookies in the front seven.

Seymour, 31, is a three-time Super Bowl winner with the Patriots and has 48.5 career sacks.

The Raiders also will be able to keep linebacker Kamerion Wimbley before he is eligible for free agency if they choose. Wimbley's agent, Joe Linta, confirmed a report by Fox Sports that the Raiders can exercise a buyback worth approximately $3.5 million to keep Wimbley under contract for 2011 instead of becoming a free agent.

Linta said the Raiders have not notified him of their plans but he expects them to do so before a March 3 deadline. Wimbley led Oakland with nine sacks last season after coming over from Cleveland in a trade for a third-round pick.

Among the other key potential free agents for Oakland are Pro Bowl cornerback Nnamdi Asomugha, offensive lineman Robert Gallery, running back Michael Bush, safety Michael Huff, cornerback Stanford Routt and defensive lineman John Henderson.

With Seymour locked up, the Raiders can use the franchise tag on anyone other than Asomugha, who is unable to be franchised under the terms of his expiring deal.

The most likely candidates would probably be Miller or Gallery. Miller has led the Raiders in receiving for each of the past three seasons. He had 60 catches for 685 yards and five touchdowns last season and would be paid about $7.3 million as the franchise player.

Gallery has been perhaps Oakland's most reliable offensive lineman since moving to guard in 2007. He would be projected to get in excess of $10 million as the franchise player.
Copyright AP - Associated Press