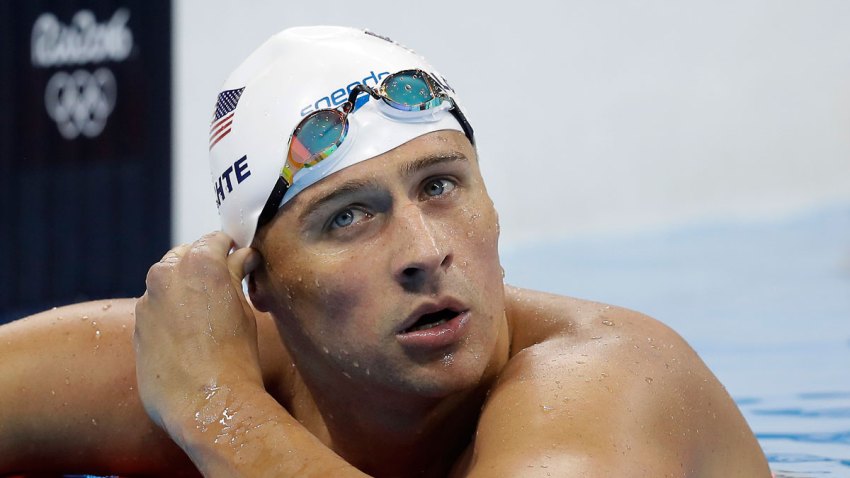 Four U.S. swimmers robbed at gunpoint overnight; one of the biggest upsets in Rio and the first Olympic golfing gold since 1904.
Here are some noteworthy numbers from Day 9 of the Summer Games:
1st: Jelagat Sumgong became the first Kenyan to win the women's Olympic marathon on Sunday, delivering her country's first gold of the Rio Games. Sumgong completed the course in 2 hours, 24 minutes, 4 seconds, evading a protester along the route.
1st: Britain's Justin Rose won the first golfing gold medal at the Olympics in 112 years. He beat Henrik Stenson by two strokes.
2: Only two of the Estonian triplets running in the women's Olympic marathon completed the Rio de Janeiro race. Lily Luik was the fastest of the 30-year-old sisters, clocking 2 hours, 48 minutes, 29 seconds to finish in 97th place Sunday. Luik says the race was hard on a hot and sunny morning and that "everybody suffered." Leila Luik crossed the finish line in 114th in 2 hours, 54 minutes, 38 seconds. But Liina Luik didn't finish, withdrawing before the 35-kilometer mark.
2: The number of Olympic singles gold medals that Britain's Andy Murray has won in a row. Murray defeated Juan Martin del Potro of Argentina for the victory.
3: The number of American women who finished in the top 10 of the Olympic marathon for the first time. Shalane Flanagan finished sixth with a time of 2:25:26 with Desiree Linden next at seventh with a time of 2:26:08. Amy Cragg came in ninth with a time of 2:28:25. The last time the U.S. won an Olympic gold medal in the women's marathon was in 1984, when the event made its Olympic debut.
4: The number of U.S. swimmers who were robbed at gunpoint in Rio overnight Saturday. USOC spokesperson said Sunday Ryan Lochte, Gunnar Bentz, Jack Conger and Jimmy Feigen were in a taxi which "was stopped by individuals posing as armed police officers who demanded the athletes' money and other personal belongings." Patrick Sandusky, a USOC spokesperson, said all four athletes are safe and cooperating with authorities."
9.81: The number of seconds it took Usain Bolt to run the 100 meter and remain the World's Fastest Man.
22: Olympic athletes in Rio competed for 22 gold medals in 12 sports on Sunday.
32: Alex Naddour picked up bronze in men's gymnastics, winning the first medal on pommel horse for the U.S. in 32 years.
59: A big upset happened during the Olympic wrestling tournament in the 59-kg division. Unheralded Japanese wrestler Shinobu Ota stunned seven-time world champion Hamid Soryan of Iran 5-4 in the opening set of Greco-Roman bouts in Arena Carioca 2. He went on to win three more matches to advance to the final.
Copyright AP - Associated Press