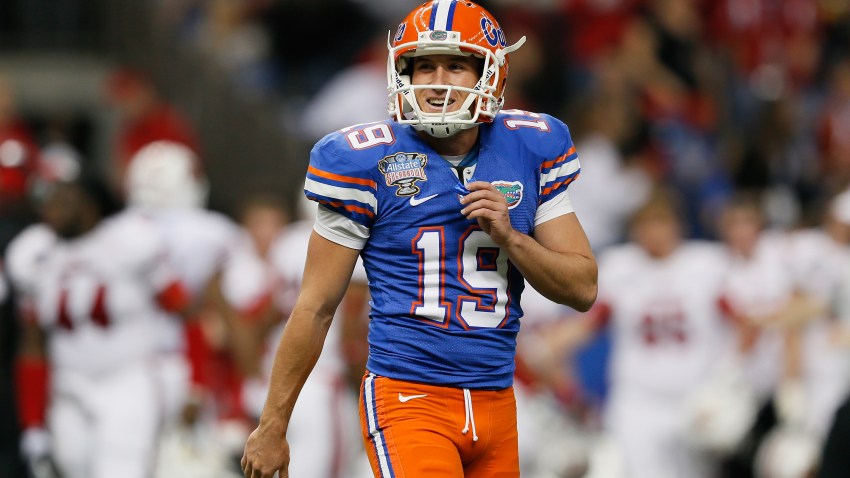 When David Akers was kicking for the Philadelphia Eagles, he once said of his job, "You're kind of the hero or the goat."
There's a third option, too: unemployed.
Today, Akers, 38, is out of work, having been released by the San Francisco 49ers Wednesday following a 2012 season of "goat" moments. In 2011, Akers had been as heroic as a kicker could possibly be, setting a record for field goals made in a season (44) while making 85 percent of his attempts. He earned All-Pro status and helped the 49ers to the NFC Championship Game.
Yet after offseason surgery, and apparently dogged in the second half of the season by a sports hernia, Akers missed more field-goal attempts (13) than any kicker in the NFL and his accuracy rate fell to 69 percent, his worst since winning a full-time job with the Eagles in 2000.
As the season progressed – and into the postseason, all the way through Super Bowl XLVII – every Akers kick was an adventure. That unreliability, coupled with the fact he was due to count $3 million toward the team's salary cap in 2013, led to his expected release.
"The 49ers would like to thank David for his service, dedication and leadership over the past two years," general manager Trent Baalke said in a news release. "He is a true professional who represented himself and this organization with class."
The question now is, where do the 49ers look for a replacement?
There's no question the 49ers can't shank this move. Having a reliable kicker – one that cannot only convert field-goal attempts accurately and with distance, but put the ball into the end zone on kickoffs – is one of those things a team takes for granted … unless it doesn't have one.
Then, as with Akers late this past season, every kick comes with a giant question mark, and winning close games becomes difficult.
With as many as 15 draft choices in hand, the 49ers could use one on a kicker. Following the NFL Combine, the top-ranked kickers in this draft are Dustin Hopkins of Florida State, Caleb Sturgis of Florida and Brett Maher of Nebraska. Hopkins, projected as a sixth-round pick, hit 24-of-28 field goals this past season and is the ACC's all-time leading scorer. He also has a strong leg, with deep kickoffs and a 56-yard field goal. Florida's Sturgis might be even more highly rated. He made 23-of-27 field-goal tries this past season – but three of those misses were blocks – and he also has hit from 56 yards.
The other option for the 49ers – a more expensive one – is to go with a player who's been tested.
Among free agents expected to be available are the Cleveland Browns' Phil Dawson, Billy Cundiff (who tried out for the 49ers as a free agent late in the season during Akers' troubles) and Nate Kaeding of the Chargers and Dolphins (who also tried out with the 49ers, with Cundiff).
Of those, Kaeding might be attractive because of his age (30) and consistency. Kaeding ranks among the league's most accurate kickers of all time at 86.2 percent (181-of-210). However, his leg isn't as strong as Akers' – he's made just 10-of-17 beyond 50 since his rookie season of 2004 – and he had some well-documented misses during the playoffs in his seven-plus years with the Chargers.
Dawson is the best kicker available, coming off a terrific season with the Browns in which he made 93.5 percent of his field-goal tries and all seven from 50 yards or beyond. Plus, as Eric Branch of the San Francisco Chronicle noted, Dawson played for 49ers special teams coordinator Brad Seely in Cleveland, so there's at least a connection. But, he'd also likely be the most expensive option as well, having made more than $3 million this past season after being franchise-tagged by the Browns.
Cleveland, however, decided not to put the tag on Dawson for a third straight season – a move that would have vaulted the kicker's salary into the stratosphere. A player who is tagged a third straight year gets a salary based not on the highest-paid players at his position, but the highest-paid players in the league. So for the Browns to have tagged him would have cost the team about $15 million reported Terry Pluto of the Cleveland Plain Dealer.
Still, the Browns could re-sign him, or he could be gobbled up by another team (such as the 49ers?) who want a reliable veteran rather than a rookie.
To let the reliable Dawson go to free agency, wrote Pluto, might be a costly mistake. The headline over Pluto's column: "Keep Phil Dawson, or kick yourself later."
The Niners, too, need to make an accurate assessment this offseason in finding Akers' replacement. They can't afford a goat.