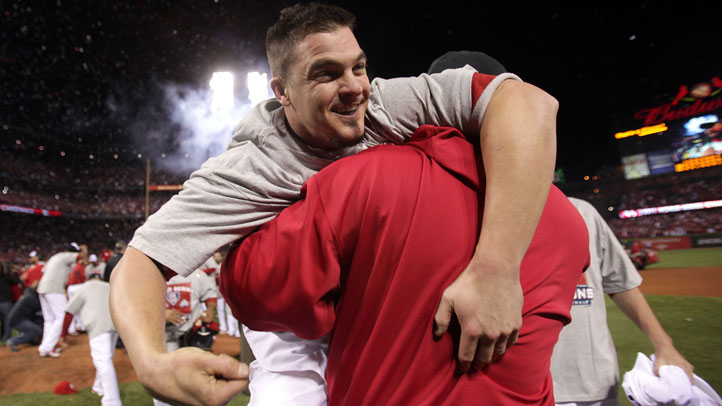 The Giants keep plugging along in free agency: after making a "splash" with Clay Hensley on Thursday, they're going to be causing riots in the streets with their most recent signing. Because, yes, they've reportedly signed utility infielder Ryan Theriot to a one-year deal.
That's according Jon Heyman of CBSSports.com, who reports that the deal is worth $1.25 million and includes $750,000 in incentives.
Frankly, it's a great signing for the Giants. Theriot can play second, short ... and really anywhere in the infield. With Mike Fontenot, who played college ball with Theriot at LSU actually, already on the team, Bruce Bochy now has a tremendous amount of infield flexibility.
Theriot (who, quick aside, is Mrs. Brinson's favorite baseball player, although she thinks his last name's pronounced "The Riot") hit .271/.321/.342 in 132 games for the Cardinals last year en route to a World Series championship.
If Brandon Crawford struggles (the possibility of this is quite strong), Theriot's a perfect fit. He might even take Crawford's job before Crawford can get it.
Or if Freddy Sanchez gets hurt (again, a strong possibility), Theriot's a perfect fit there as well.
The dude's got 17 homers in his career and an OPS+ of 83 over seven seasons. He's not some A-list slugger that's going to make the Giants lineup scary all of a sudden.
But he's also not a $6 million investment in Miguel Tejada, so he's already an upgrade from 2011.