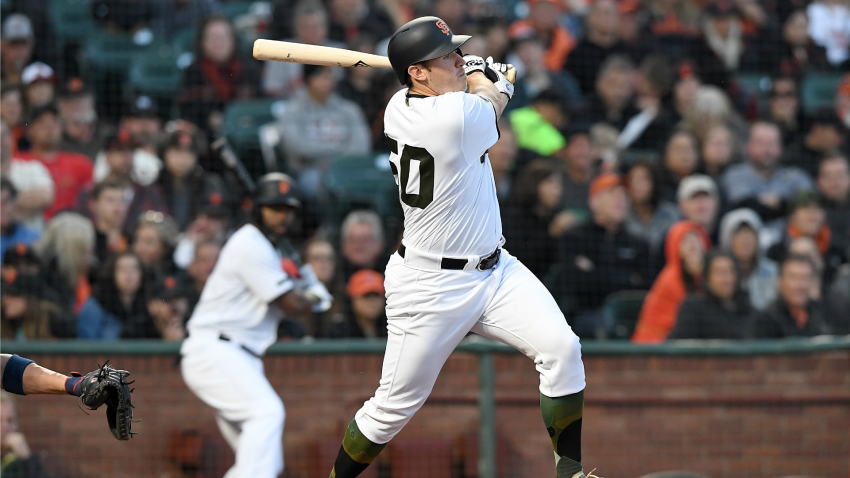 SAN FRANCISCO — This spot in the rotation is the one reserved for the stopper, the pitcher who takes a game by the throat when his team really needs it.
Ty Blach took the mound Saturday for a team that had lost five of six, and just as Madison Bumgarner often has, Blach ended the skid. The young lefty was dominant into the eighth and the bats finally provided enough support. The Giants won 6-3, tying this weekend series with the Braves.
Here are five things to know from a night we were reminded that Emilio Bonifacio is in the big leagues …
--- Blach pitched 7 2/3 innings. He has thrown at least seven innings in his last four starts, and five of seven starts overall. Jeff Samardzija (6) is the only Giants starter who has gone that deep more often. Blach is tied with Johnny Cueto for second-most seven-inning starts on staff, and Cueto has made three additional starts.
--- Blach's RBI single in the fourth was -- at the time -- the fourth hit of his career, and the first against a pitcher not named Clayton Kershaw. The ball had an exit velocity of 101 mph. Blach tried to score from first on Denard Span's double, but Phil Nevin held him. Still, the way he was moving, it makes you wonder if Samardzija really is Bruce Bochy's best pitcher-pinch-running option. In the seventh, Blach picked up a second single.
--- Blach's only bad start has been the one he made in Cincinnati, where the Giants played like a Double-A team. If you take that one out, Blach has a 2.21 ERA since taking over Bumgarner's rotation spot.
--- Even though he gave up just two earned in 7 2/3, Blach's home ERA actually went up. It's 1.75, which ranks seventh in the National League. The sellout crowd gave Blach a standing ovation when he was pulled in the eighth.
--- Blach had a season-high five strikeouts. When he got Nick Markakis to end the first, Blach ended a streak of 37 left-handers faced without a strikeout. He later struck out another lefty, Matt Adams. The new Braves first baseman came up as the tying run in the eighth but Derek Law got him to ground out to first.
--- Bonus sixth "thing to know" ... on Blach of course: His first name is Tyson, not Tyler. It's Tyson Michael Blach.