The San Francisco Giants went into a chilly Detroit and took Game 3 from the Tigers. Game time temperature was 47 degrees and continued to drop from there. And Saturday was the warm night of the weekend.
Giants won by a final score of 2-0.
The Giants are now one win away from becoming the 2012 World Series Champions.
If they win Sunday night, it will be a sweep.
Starting pitcher Ryan Vogelsong continued his Cinderella-like baseball story line and threw another gem to get the win.
He allowed no runs in his 5 and 2/3 innings pitched to get the win. Powered by a Friday night dinner of chicken enchiladas, Vogelsong got out of a few jams Saturday thanks to great defensive double plays and one amazing strike-out to triple crowd winner Miguel Cabrera with the bases loaded in the 5th.
The final MLB pitching stats for Vogelsong were 5.2 innings pitched, 5 hits, 0 runs, 4 walks and 3 strikeouts.
Vogelsong said after the game that he had been waiting to pitch in a World Series game since he was five years old. "I wasn't going down without a fight," Vogelsong told a Fox reporter.
Manager Bruce Bochy then handed the ball to Tim Lincecum who continued to mow down the great hitters of the Tiger lineup. Sergio Romo came in for the 9th to get the save.
Saturday night's win was the Giants sixth straight of the post-season.
The Giants scored two runs in the second inning and that was enough. The early lead made the white rally towels being waved by Tiger fans appear to be white flags of surrender at times during the game.
The other storyline of the night was the offensive effort of Pablo Sandoval. He is hitting .636 so far in the World Series. He entered the record books when he hit three home runs in Game 1 and he has stayed on fire for Game 2 and 3.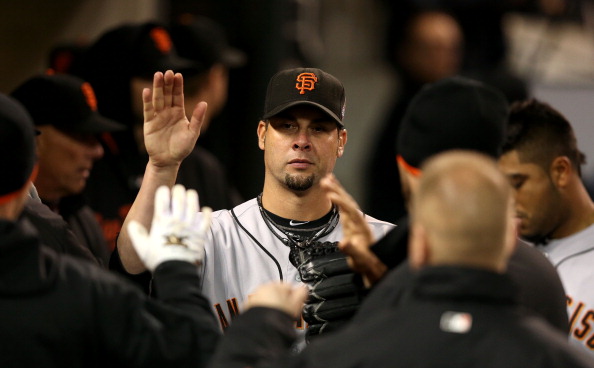 Game 4 is Sunday night with first pitch at 5:15 p.m.
The Giants have their ace Matt Cain on the mound.
City leaders in San Francisco have announced they will set up a viewing screen outside City Hall tomorrow night so that fans can watch the game together. MLB only allows something like that for a potential clinching game of the World Series.
In 2010, thousands of people watched Game 5 against the Texas Rangers.
The Mayor's Office, in collaboration with the Recreation and Park Department, will broadcast the potential clinching away game in Civic Center Plaza. Leaders said in order to keep the event focused on families, alcohol will not be sold or permitted during the broadcast. They also encourage folks to take BART or Muni.