A Bay Area soccer referee is recovering from a traumatic brain injury and broken jaw after a player sucker punched him over the weekend, authorities said.
Witnesses say the adult-league ref was officiating a match on Sunday at the Minnie and Lovie Ward Recreation Center in San Francisco's Ocean View neighborhood when he issued a yellow card to a player, according to a San Francisco Police Department police report. The outraged player, who had already received one yellow card, then ran up behind the ref, punched him and took off in a white Chevrolet Silverado.
San Francisco police are still looking for the attacker.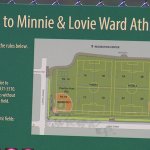 The ref's injuries, listed in the report as a broken jaw, loss of consciousness and loosened teeth, are not considering life-threatening, authorities said.
The suspect is described as 6-foot-2, 20 to 25 years old, with black or brown hair. The man was wearing a green and white soccer jersey before he fled, according to police.
The San Francisco attack comes about a week after a soccer player in Argentina reportedly shot and killed a referee who ejected him from a game.