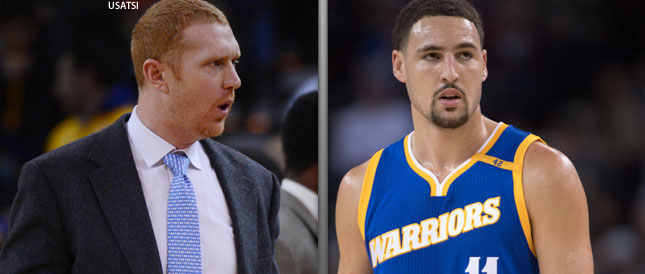 Last Wednesday, Klay Thompson said former Warriors assistant coach Brian Scalabrine was "ducking" him when the Warriors were in Boston in November.
A day later, the Celtics analyst was asked about Thompson's comments.
"I mean, what can I say? You see how they run me around at my station. I got 50 [television] hits and Facebook Live. I don't even have time to duck people. I did look for Klay. I couldn't find him. I didn't go into the locker room, so I didn't really search him out. But I'm fine with that," Scalabrine told SiriusXM NBA Radio last Thursday.
During his interview with ESPN, Thompson questioned the reliability of rumors coming from Scalabrine. Those comments were mentioned to Scalabrine.
"When you have to fill 15 hours a week with [New York Daily News reporter] Frank Isola, lot of that stuff is not reliable," Scalabrine joked.
Asked about his relationship with Thompson and if they are "boys," Scalabrine alluded to their relationship being fine.
'I'm not boys with anybody, so I don't know what that means. When I see him, we're good. I'm good with a lot of guys. But I'm not texting him when 60 in three quarters," Scalabrine said.
Copyright CSNBY - CSN BAY