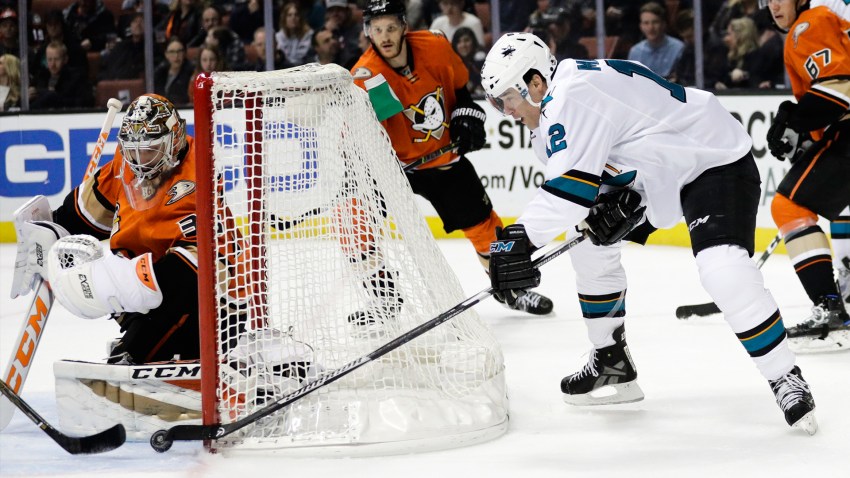 SAN JOSE – When you're a team that has just one practice over a 16-day span, the details of your game are inevitably going to slip.
Nowhere has that been more evident for the Sharks than on their power play. In their last nine games since Dec. 9, San Jose is just 4-for-35 (11.4 percent) with a man advantage. Tuesday's game in Anaheim was perhaps their most futile effort to date, as they went 0-for-4 with just four shots in eight minutes while giving up a handful of shorthanded chances the other way.
Ahead 2-1 with a chance to increase the lead in the third period after Andrew Cogliano's high-sticking minor, the Sharks didn't register a single shot on goal, while Anaheim's Kevin Bieksa nearly converted on a two-on-one the other way. The Ducks predictably tied it later on in the final frame before San Jose prevailed in overtime, 3-2.
Pete DeBoer has been reluctant to break up the Sharks' top unit of Brent Burns, Joe Thornton, Joe Pavelski, Logan Couture and Patrick Marleau, which has been so effective for several seasons, including last year when San Jose was third in the league on the power play. At Wednesday's practice, though, it was Joel Ward in Marleau's place, as the coach searches for some sort of spark. The second unit consisted of Marleau, Mikkel Boedker, Kevin Labanc, Marc-Edouard Vlasic and Dylan DeMelo/David Schlemko.
"We're looking at different options. We're kind of at that point," DeBoer said. "I think we need to explore everything. Like every decision you make, you try and let it run its course and give it as much time as you can, but obviously it's not where we want it to be right now."
Couture said: "I don't know what the stats are, but feels like we haven't scored a goal forever. Change is always something coaches go to, so we'll see if it works."
Ward's role would seem to be clear – get his big body to the front of the net and try for a deflection, or clean up loose pucks lying around the crease. The season has been a struggle for the veteran so far with just two goals in 33 games, and he was recently a healthy scratch for two nights, to boot. But, now he has a chance to have an impact.
"Hopefully [I] can make it count, and stick there and help the boys out a little bit," Ward said. "It's a good opportunity."
The Sharks extended practice on Wednesday – just their second since Dec. 12 – included more than just the power play. They weren't pleased with their overall performance against the Ducks, and although they've won seven of their last eight, those complete, 60-minute efforts have eluded them on some recent nights they've managed to squeak out wins anyway.
Shootout victories against the Maple Leafs and Senators two weeks ago, in particular, were nights the Sharks got away with not being at the top of their game – just like on Tuesday against the Ducks. Still, they are encouraged that they're finding a way to collect points despite some stretches of ineffectiveness, and they have a chance before Friday's home game with the Flyers to clean some things up.
"The last two years it feels like there's been many times where maybe we are having a tough game or [are] not playing our best, but we seem to find ways to get points," Chris Tierney said. "It's a lot of credit to guys bearing down. I think when things aren't going well [we] just play real good defensively when maybe the offense isn't there."
Couture said: "It shows that we're a good enough team to win when we're not playing our best. You need games like that in this league, you can't play a perfect 82."
Keeping the puck out of their own net, thanks in large part to Martin Jones – whom Tierney referred to as "Vezina-like" – has been a strength since opening night. As long as that's there, they'll have a chance to win. Pretty or ugly.
"You can't count on your power play for 82 games, but you can count on a foundation of defending a team defense and pressure," DeBoer said. "We've been building that for a year-and-a-half, so that we can survive a month or two where your power play is maybe not red-hot."
Getting more production out of it is still preferable.
Copyright CSNBY - CSN BAY